Eberhard "Hardy" Kintscher

By
.(JavaScript must be enabled to view this email address)
Friday - November 23, 2007
Share
|

Del.icio.us
|

Podcast
|
WineAndDineHawaii.com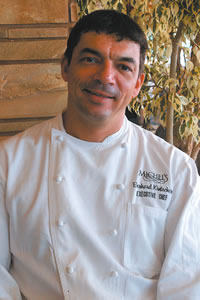 Eberhard "Hardy" Kintscher
Title:
Executive Chef, Michel's at The Colony Surf.
Where were you born and raised?
In Beilefelde, Germany.
What started your interest in cooking?
My mom had to work, and in Germany school gets out at 1 p.m. and usually you go home for lunch. Because my mom came home at 2 p.m., it was my job to get things ready for lunch, heat up the goulash, boil the potatoes - that kind of thing. I was always interested in what was going on in the kitchen, and I guess it started there.
Was anyone in your house an inspiring cook?
Well my mom was an efficient cook who made the most of what she had. And my grandfather was a brew master, who lived above a pub/restaurant with my grandmother, so I saw lots of the goings on of a pub/hotel. I noticed that when the chef walked around in his uniform he was given lots of respect ... (Smiles)
When did you come to the United States?
I finished my apprenticeship and then I came to America in 1985 through a hotel that was looking for German chefs. I worked at the Beverly Wilshire Hotel in Beverly Hills, and then heard that there might be an opening at the Waikiki Prince Hotel. I thought I'd come to Hawaii for a year and then move on somewhere else. Certainly I could never see myself living in Hawaii.
So, what went wrong?
(Laughs) Well, I met my wife and we started our family and I spent 10 years at the Hawaii Prince! I really enjoy it all very much.
Where do you and your wife like to dine when you're not at Michel's?
We like Le Bistro in Niu Valley. It's a great restaurant. And my wife's family is Chinese, so we go a lot for Chinese food. Kirin and Maple Garden are very good - the tea duck at Maple Garden is outstanding. And Panda restaurant is also very good - on Keaumoku. Their steamed chicken and Virginia ham is excellent.
Do you cook at home?
I do. I like to do American-style. I love to fire up the Weber and grill steaks and make salads.
With whom would you most like to have dinner at Michel's?
My dad. He passed away a long time ago and never saw any of this.
Favorite movie?
Right now it's Ratatouille. Thomas Keller was heavily involved with the kitchen consulting, and it's technically a great movie.
Most Recent Comment(s):