Ed Saunders

By
.(JavaScript must be enabled to view this email address)
Friday - February 02, 2007
Share
|

Del.icio.us
|

Podcast
|
WineAndDineHawaii.com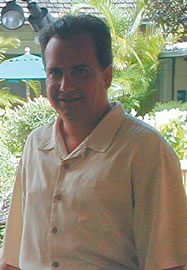 Ed Saunders
Ed Saunders is the general manager of one of Hawaii's oldest and best-loved hotels. He's been there since 1985. Here he talks about his mom's delicious Spam gravy, his own mean stuffed parrot fish (although he refuses to give us the recipe), and why his perfect dining companion would be Jesus.
Age: 39
Title: General manager of Pagoda Hotel & Floating Restaurant and HTH Corporation property.
What got you started in the food and beverage industry?
About four months after I graduated high school, I took the bus to Ala Moana Center to look for a job. I ended up on Keeaumouku Street and saw a fish on a sign, which led me to see a help-wanted sign for a bellman position in 1985. I went in to inquire and the rest is history.
Earliest food memory?
My brother's high school graduation party - we dug an imu in the back yard. I was so fascinated with the whole process, from setting up the imu to cleaning and cooking the pig. I'll never forget it.
Do you have a favorite dish from your childhood?
My mother was a creative cook, and she made something called "Spam gravy."It's cubed Spam and potatoes marinated in tomato paste. She adds peppers, ketchup, onions and garlic and simmers it. She still makes it for me to this day. It's delicious.
Who has had an influence on you in your career?
Our property founder, H.T. Hayashi, was a mentor and an inspiration to me. He was a local boy with a desire to get into the hotel business - that was unheard of! It was a dream of his to cater to Neighbor Island folks, as there weren't really places that catered to the locals. He wanted local people to have the opportunity to travel to Neighbor Islands and find affordable accommodation. We're still a part of the dream today.
Do you have a favorite Pagoda story?
I have so many, but this one is the most sentimental. We were the chosen place for a first-time meeting (in 25 years) between a father and son. A mutual friend had set up the meeting, thinking Pagoda seemed a good spot. Before the actual meeting, fate had them bump into each other in our store located in the front lobby. It was an awesome experience, lots of emotion.
What's always in your fridge?
Spam, Portuguese sausage, milk, eggs, vegetables and deli meats.
Do you cook at home?
Yes, I make a mean stuffed uhu (parrot fish), but it's a secret recipe that I can't share (smiles).
With whom would you most like to have dinner?
Jesus - he's the most significant person in our lives.
What are your favorite dishes when you go out to eat?
Prime rib at Pagoda, seafood at Neptunes, Spam gravy at my mom's house, Assaggio chicken at Assaggio's, Kailua, and prime rib at Haleiwa Joe's, Kaneohe.
How do you relax?
By spending quality time with my son and daughter.
Most Recent Comment(s):