Elmer Guzman

By
.(JavaScript must be enabled to view this email address)
Friday - April 09, 2005
Share
|

Del.icio.us
|

Podcast
|
WineAndDineHawaii.com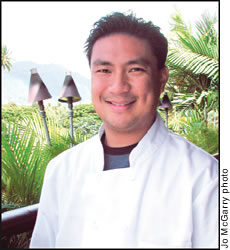 Elmer Guzman is the executive chef at Sam Choy's Diamond Head. Born and raised on Maui, Guzman has a love of island reef fish and uses them frequently in his dishes. He also incorporates dishes from his childhood (often with a Filipino theme) when creating new menu items. He worked under the guidance of Alan Wong, and spent time in New Orleans working with Emeril Lagasse.
He is the author of the popular cookbook The Shoreline Chef, a collection of original recipes, photographs and descriptions of some of Hawaii's unique reef fish.
Name: Elmer C. Guzman
Title: Executive Chef, Sam Choy's Diamond Head
Age: 34
First professional cooking job? Line cook at Canoehouse Restaurant under Chef Alan Wong.
Who has influenced you most in your cooking career? Alan Wong and Emeril Lagasse.
Favorite dish at your own restaurant? Grilled island fish topped with a peashoot salad and fried garlic edamame sauce.
Favorite dish at another Hawaii restaurant? "Da Bag" at Alan Wong's restaurant. The major reason is, I was there when he created this dish. It's so simple yet incredibly tasty, and the presentation gives it the wow factor.
What's always in your fridge? Butter.
Favorite late night snack? A six-inch cold cut Subway sandwich with extra mayo and a glass of beer.
Who would you most like to cook dinner for? Martin Yan. I'm always amazed when he uses that cleaver and cuts everything with ease.
What ingredient can you not live without? Any type of citrus: calamansi, limes, lemons, etc.
How would you describe your cooking? I would describe my cooking a combination of island cuisine and new Orleans cuisine dealing with a lot of seafood.
How do you relax when you're not in the kitchen? Going to my mother-in-law's beach house to go fishing and watching my family having fun in the water.
Most Recent Comment(s):
Commenting is not available in this weblog entry.