Emi Espinda

By
.(JavaScript must be enabled to view this email address)
Friday - October 05, 2011
Share
|

Del.icio.us
|

Podcast
|
WineAndDineHawaii.com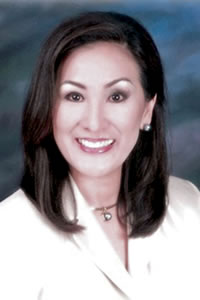 Photo courtesy Emi Espinda
Title: Regional Director of Sales and Marketing, Hawaii, Desert Island Restaurants.
Where were you born and raised? Honolulu. I went to Roosevelt High School and graduated from University of Hawaii at Manoa.
What started you interest in the food and beverage industry? Well, like most people, I think, I've always liked to eat (laughs). I grew up with my grandmother's cooking. I'm half Okinawan and half Chinese, so I grew up eating the kind of melting pot local food that we all know in Hawaii. My Chinese grandmother would make fabulous Chinese food, and my dad was also a really good cook.
First job in the industry? Believe it or not, this is it! I had worked previously with the airlines and with golf courses, but when this opportunity came up I happily swapped my golf clubs for steak knives and pasta bowls.
What's interesting about Romano's Macaroni Grill and Ruth's Chris in Hawaii is that you reach both locals and tourists and both groups have quite different experiences. Yes, we have Ruth's Chris in the heart of Waikiki and in resorts, but then we have Restaurant Row and Ala Moana, where our local customers go. So knowing the market and being able to diversify what we do is really important.
Where do you like to go eat when you're not working? Ruth's Chris and Macaroni Grill. Seriously.
Favorite dishes? At Macaroni Grill it's the Chicken Florentine Salad, Mushroom Ravioli or Seafood Linguine. At Ruth's Chris it's the Petite Filet with Shrimp ... every time!
Do you cook at home? I do, but because I eat so well at work, I eat very simply at home: brown rice, tofu and vegetables ...
What's always in your fridge? Yogurt and tofu
With whom would you most like to have dinner at the restaurants? I'd love to take my grandmother to Macaroni Grill. She was a great cook and I learned a lot from her; and to Ruth's Chris I'd like to take my dad. Sadly he didn't see me in this position, so if I had the chance I'd take him for a great steak.
Most Recent Comment(s):