Eric Hill

By
.(JavaScript must be enabled to view this email address)
Friday - February 10, 2006
Share
|

Del.icio.us
|

Podcast
|
WineAndDineHawaii.com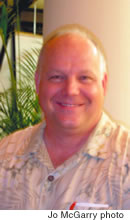 Eric Hill
Eric Hill is assistant general manager at the incredibly popular Ruth's Chris Steakhouse in Honolulu. He began his career in the kitchen and here he shares some advice on how to become a professional in this often-tough business.
Name: Eric Hill Job Title: Assistant General Manager, Ruth's Chris.
How did you get started in the business?
A friend of family was a chef, and I went right into the kitchen as a fry cook, learned all the stations and worked my way up through the kitchen there.
Was your goal to be a chef?
Well, I was 17 at the time, in Wisconsin and I worked my way through college and ended up years later in Tahoe working in a casino kitchen. That's when I decided to come to Hawaii. The pay they were offering cooks then (21 years ago) was $4 an hour, so I decided to go for the waiter job instead.
Where was your first fine dining job?
Orson, working for the Wong family. And then I worked with Russell (Siu) and then at Nick's Fishmarket.
Is it best to work your way up the different levels in a restaurant?
I think you need to. At Nick's, for example, a lot of the bus boys and servers wanted to be waiters. And that's the way to do it. You have to learn it.
Do you think anyone can be a good waiter?
No, I really don't. It might only be five or six hours on the floor at night, but you can get burned out. It's high stress, intense. You have to learn to let a lot of stuff go - if the tips don't go your way, or if you're just having a bad night. Basically you're serving people, and not everyone is comfortable doing that.
Who would you most like to see come into Ruth's Chris?
We see a lot of athletes, and we get a lot of famous people here because we're so well known. I'd have to say I'd most like to see some of those ladies from Desperate Housewives come in!
Favorite Late Night Snack?
I eat in the restaurant. I have two small daughters and when I go home the house is dark.
Favorite Dish at Ruth's Chris?
Veal Chop. I'm a rib eye man usually, and our rib eye is great, but the veal chop is outstanding.
Where do you most like to go when you're not eating at work?
Big City Diner . My daughters love that place. I love Grace's chicken katsu too.
Who has had the most influence on you in your career?
James Yim from Nick's Fishmarket. Jimmy Van Rossum, the family chef who took me in and trained me. Al Hosoi from Ruth's Chris. And Paul Ah Cook, who really knows this business.
Any advice to someone who wants to be a professional waiter?
"Yes, aim higher (laughs). But seriously, this can be a really tough business.
The best advice is go be a waiter. Learn about wine, about selling yourself and get a good grounding in the business. If you do that, you will end up somewhere great.
Most Recent Comment(s):