Eric Leterc

By
.(JavaScript must be enabled to view this email address)
Friday - June 02, 2006
Share
|

Del.icio.us
|

Podcast
|
WineAndDineHawaii.com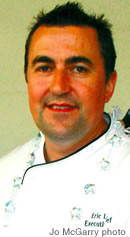 Eric Leterc
Eric Leterc is executive chef at the Pacific Club. He was born and raised in France, where he learned to cook at an early age. He has a great love for Hawaii and its natural resources. Here he chats about his early career, and why he'd like to host the pope or the Dalai Lama for dinner.
Age: 43
Where did you go to school?
I went to school in France, and did an apprenticeship to culinary school in my hometown of Annecy.
What started your interest in cooking?
I was 8 years old when I knew that I wanted to be a cook, and I never changed my mind. I had a lot of opportunities working under well-known chefs most of my career, and I just learned by following my heart, my passion and my instinct.
First professional position?
At the Hotel du Commerce in the town of Thones at the age of 16.
Who has influenced you most in your career, and why?
Alain Ducasse. When I met him he was the chef of Hotel de Paris in Monte Carlo. He received me in his office and we talked about food. Because he was such a well-known and well-respected chef who took the time to talk to me, it made it very special and I never forgot it.
Favorite dish at your own restaurant?
One dish that I like is the sundried tomato tapenade that I created. It's a very versatile recipe - and it tastes good!
Where do you go to eat when you have free time?
Side Street Inn.
Favorite dish there?
Soybeans and pork chops.
What's always in your fridge?
Cheese, I can't live without it.
Favorite late night snack?
Cheese!
What do you do to relax?
I love to go to the beach and swim.
Do you cook at home? If so, what's your best dish?
Yes, I love pasta, vegetables. I love to cook simple and healthy food.
Whom would you most like to host at dinner in your restaurant, and why?
The pope or the Dalai Lama, because of the work they do. I think we have a connection, because chefs try to create a harmony and make people happy through their food.
Best part of your job?
Oh, definitely the pleasure that food can bring to people - and trying to teach that and pass it on to my staff.
Most Recent Comment(s):