Floyd Cardoz

By
.(JavaScript must be enabled to view this email address)
Friday - August 12, 2009
Share
|

Del.icio.us
|

Podcast
|
WineAndDineHawaii.com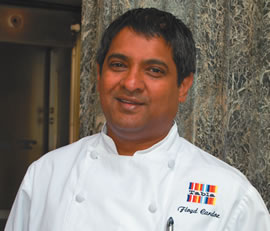 Title: Chef/owner Tabla Restaurant, New York
Where were you born and raised? Bombay, and raised in Goa, India.
You're a fairly frequent visitor to Hawaii, I hear. I love Hawaii. I've been five times and I can't wait to come back again. It's one of my favorite places. It's the people, the weather and the aloha spirit that I love. In New York, we barely have time to stop and smell the coffee!
What are some of your earliest food memories? Growing up we had a cook, and my mother only cooked on holidays. My earliest memories are of going to see my great-grandmother in Goa, where she raised pigs and chickens and grew mangoes and coconuts and jackfruit. She made amazing fish curries. That's the kind of food I remember growing up.
You trained as a biochemist before deciding to go to culinary school. What caused the change in career path? I loved to eat and I always assumed I liked food because I liked eating. I did my master's in biochemistry, but when I read Arthur Hailey's Hotel, I was very impressed with the chef, and for the first time I thought, "Wow, that's something I could do." So I decided to go to culinary school.
That was an unusual decision, given your background.Yes, in India, upper middle class people don't cook as a profession. When I told my grandmother that I wanted to cook, she was very surprised.
Does your scientific training help in the kitchen? I think that that part of my brain helps me explain to my cooks what happens when things go wrong in the kitchen. I'd say it definitely helps, but not when I'm creating.
With whom would you most like to have dinner? The Obamas.
Any culinary mentors? My food flavors were influenced by my grandmother, and my cooking techniques were influenced greatly by Gray Kunz at Lespinasse.
Do you cook at home? Yes. Three meals a day on Saturdays and Sundays. I cook breakfast, lunch and dinner for my wife and two boys. Nothing is preplanned; I just go to the markets and see what's there.
What's always in your fridge? Ginger, garlic, cilantro, and I grow rosemary, thyme, tarragon and sage in my yard, so they are always in there. I always have black beans, six or seven different kinds of mustard, fresh horseradish, chili peppers (they keep better in the fridge) and limes. I love limes.
Favorite comfort food? A very traditional fish curry my grandmother used to make. It's hard to get fish heads here, so I use the collars to make it. I always have it with rice from Goa - it's a short grain, fat, boiled rice that is red in color. When I've had a rough day and I have that for dinner, it makes me feel good.
Favorite Hawaii hangout? Side Street. Roy Yamaguchi took me there on my last visit to Hawaii, and I thought the food was awesome. -Jo McGarry
Most Recent Comment(s):