Frances Pons

By
.(JavaScript must be enabled to view this email address)
Friday - April 01, 2009
Share
|

Del.icio.us
|

Podcast
|
WineAndDineHawaii.com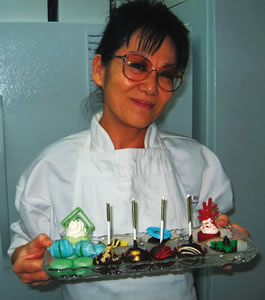 Title: Owner of Sugar Rush by Frances
Where were you born and raised? I was born in Osaka, Japan, and grew up in the San Francisco Bay Area.
What got you interested in the dessert world? As a child, I had petit fours for dessert after dinner on my first trip aboard a Pan Am airplane. The memory of how delicious they were and the beautifully detailed decoration on each cake always stuck with me. I also grew up with confections made by my grandmother, who as a young girl made desserts for her family's restaurant in Japan at the turn of the century.
What do you like best about creating your desserts, and where does your inspiration come from? Having the complete freedom to express my creativity. I don't do well with rules, never have. In each artist there is, I believe, a little bit of madness. And I'm sure much of my vision comes from that place. Inspiration also comes from knowing that I'm making a lot of people very happy with my desserts. I'm in the service industry. If, at the end of each day, I've been of service, then I'm happy.
What is your personal favorite of the desserts you make? GOLDFINGERS, which is also our signature dessert (cheesecake lollipops dipped in premium chocolate, dusted in gold).
What's always in your fridge? Chocolate and pasta.
What's your favorite place to go for dessert, besides Sugar Rush? Waiola Shave Ice, always with ice cream, azuki beans and condensed milk.
With whom would you most like to share your desserts? My late dad, and also grandmother and grandfather, who never got to see the creation of Sugar Rush by Frances.
What's new? Our main focus is our gargantuan miniature dessert menu, to which we constantly add at least one new dessert monthly. However, as part of our expansion, we recently began offering customized full-sized wedding cakes, as well as the ever-popular topsy turvy crazy cakes.
Most Recent Comment(s):