Francois Bougard

By
.(JavaScript must be enabled to view this email address)
Friday - October 21, 2009
Share
|

Del.icio.us
|

Podcast
|
WineAndDineHawaii.com
Job Title: Executive Chef, Bali By The Sea, Hilton Hawaiian Village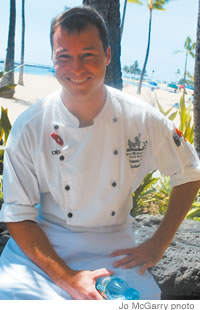 Where were you born and raised? San Francisco - a small town called Novato right next to the freeway that takes you to the wine country. My parents are both French; my dad is a chef in San Francisco.
Oh, I'll bet you ate well growing up. We really did. Every Sunday my dad was off, and he would cook and we would help him. He would introduce all kinds of stuff to us. It could be as bad as liver, and as great as smoked salmon or oysters.
What do you first remember eating or cooking? Making salad dressing is one of my earliest food memories, and learning to add the salt and pepper first before the oil. Most people don't realize that when you add it later, the vinegar dissolves the salt, so you have to mix it before you add the oil and vinegar. And I was making crepes when I was about 7 years old.
What brought you to Hawaii? I grew up surfing and I always dreamed about coming to Hawaii so I could have a balance in my life. I wanted to be in this tropical, beautiful place to balance the really stressful, unhealthy life of a chef!
How did you get your first job here? I moved straight to Maui and stayed at a youth hostel on my first night. The next morning I drove to the Ritz Carlton, went straight to the chef and asked for a job, and they hired me right away to start working at the Anuenue Room.
I had the best abalone of my life at the Anuenue Room in 1999. (laughs) I was there! I'm doing abalone here now on the menu.
Now I can't wait to come try your new menu. Do you cook at home?
All the time. I love to make salads and dressings. People don't think of salads as an entrée, but I make big salads with potatoes, green beans, shrimp or chicken. You'd be amazed at how filling they are.
What's always in your fridge? Chicken and shrimp, not so much red meat.
Who would you most like to see come to Bali for dinner? Well, it was my dad, but he came here just recently, so that was great. He was blown away. And just recently the chef I studied under in Paris came to the restaurant.
He didn't remember me because I was just an apprentice, but I was so impressed with his food at the time, so being able to cook for him was really cool. And I'd like to cook for Hubert Keller. I'm so impressed with his food.
Most Recent Comment(s):