Gail Ann Chew

By
.(JavaScript must be enabled to view this email address)
Friday - December 15, 2006
Share
|

Del.icio.us
|

Podcast
|
WineAndDineHawaii.com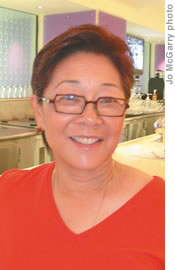 Gail Ann Chew
Gail Ann Chew is executive director of the Hawaii Restaurant Association. Here she talks about the industry, her favorite dishes around town and why she'd love to invite former President Jimmy Carter over for dinner.
Age: 50-something
Where were you born and raised?
Oakland, Calif.
What started your interest in the food and beverage industry?
Conversations with Tony Vericella and Leslie Dance about unique, non-traditional, unexpected marketing communication messages for Hawaii as a destination.
First job in the industry?
Started working in the kitchen of my uncle's restaurant - washing dishes and busing tables.
What's been the most memorable "chef" trip or experience you've had?
Each time I traveled with a chef as part of the HVCB's "Chefs of Aloha" and "Aloha Cities" campaigns was an experience, but one experience that stands out was the time we traveled with Russell Siu to Lisbon. We were hosting a dinner for government and tourism leaders, and none of the kitchen staff or wait staff spoke English - and neither Russell nor I speak Portuguese!
Do you cook?
When time permits.
What's your specialty?
Poached salmon.
Favorite restaurants?
Depends on the "type of food" and the occasion - in Hawaii we have so many choices!
Favorite dishes around town?
Depends where I am. I'll name a few, and hope no one is offended because I have favorites all over town and on all the islands: Lilikoi malasadas at Chef Mavro, meatloaf at the new MAC 24-7, scampi at Hula Grill, crispy skin moi and Asian slaw salad at The Pineapple Room and lamb cutlets at Yanni's.
What's always in your fridge?
Feta cheese, chicken broth and eggs.
Is the HRA concerned about all the new chain restaurants that are coming to Hawaii, or is the group just happy to see the industry so busy?
It's been tremendous to be a part of the restaurant industry during so much growth! You hear a lot about the chains coming in, but at the same time there are independent restaurants opening as well. The ever-growing diversity of restaurants really does contribute to enhancing the dining experience for us all - resident and visitors!
Mentors or people who've influenced you throughout your career?
Herb Cornuelle, Oz Stender, Walter Dods, Tony Vericella and Roberta Rinker-Ludloff.
With whom would you most like to have dinner?
Former President Jimmy Carter - he was so maligned during his term of office, yet as a former president he has continued to demonstrate quiet strength and dignity. I admire his tremendous personal contributions - they have impacted the lives of people in communities across the country through Habitat for Humanity, and he has always demonstrated an unwavering commitment to achieving peace in the world.
If you weren't in this industry where would you be?
Teaching.
Favorite movie?
Yojimbo because Kurosawa created an incredible genre of films, and because Mifune always seemed to be able to "speak" without speaking.
Most Recent Comment(s):