Geno Sarmiento

By
.(JavaScript must be enabled to view this email address)
Friday - July 08, 2009
Share
|

Del.icio.us
|

Podcast
|
WineAndDineHawaii.com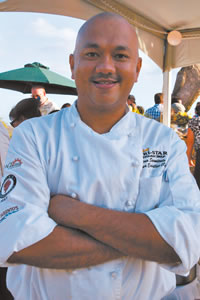 Job Title: Senior Executive Chef, Tri-Star Restaurants
Where were you born and raised?
I was born in the Philippines and I came to Hawaii right after high school. I moved to Honolulu first, and then in 1999 I came over to Maui to help open Nick's Fishmarket at the Fairmont Kea Lani. When Sarento's on the Beach opened, I helped open that restaurant, too.
What started your interest in food and beverage?
I got a degree in food service and associated science at Leeward Community College, and I knew I wanted to work in the restaurant industry. I started with Tri-Star when they still owned Nicholas Nickolas back in the day. I've been with the company for about 17 years now.
In terms of the restaurants you are responsible for, I'd say that you have a pretty good job!
Yeah. It's kind of a privilege to work at these restaurants. Right now I'm based at Sonz, our restaurant at the Hyatt Regency at Kaanapali. There are executive chefs in each of the restaurants, but I move between Sarento's on the Beach, Sonz and Nick's Fishmarket.
I think Sarento's on the Beach is easily one of the best restaurants in the state.
Thank you. We're very proud of it - they are a bunch of professional people there, with great leadership. The staff is trained so well, and I think that everything complements everything else there. It has the most beautiful view - the sunset, the service, everything works very well together at Sarento's. I'm glad to be part of it.
Do you cook at home?
I like cooking at home, sure. I have three kids and they enjoy outdoor cooking. Actually, I love to cook wherever I am.
What's always in your fridge?
Fish or meat or chicken for my kids, milk of course ... and I do have lots of butter.
Pick one dish from just one of the restaurants as an all-time favorite.
No! (laughs) It's impossible, there are so many of them. Probably, if I had to choose, I'd say the catch of the day simply seared and finished with sizzling peanut oil. To me, that's an almost perfect dish.
With whom would you most like to have dinner?
I like cooking for all sorts of people really, but my favorite guy in the world would have been John Lennon. His philosophy and the way he lived his life was so impressive. I would have loved to have cooked dinner for him.
Anything that would surprise people about you? Well, I like playing sports. I'm a pretty good basketball player. I've got some skills (laughs).
Favorite restaurants on Maui?
I like going for lunch to Saigon Café in Wailuku. It's a little Vietnamese place. I like Thai food, too - there's a great place in Kihei. But if it's fine dining, then I'm going with one of our restaurants every time.
Most Recent Comment(s):