Geraldine Rojales

By
.(JavaScript must be enabled to view this email address)
Friday - December 30, 2009
Share
|

Del.icio.us
|

Podcast
|
WineAndDineHawaii.com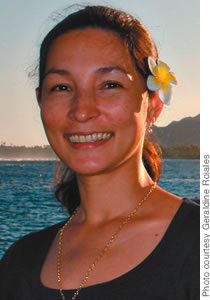 Job Title: Director of Guest Services, Kahala Hotel and Resort
Where were you born and raised? Manila, in the Philippines. I came to Hawaii in 2000.
What sparked your interest in the world of food, wine and hotels? I was studying public relations in college, and right before I graduated they opened a beautiful hotel, The ShangriLa Manila. As soon as I walked into the hotel, I knew it was where I wanted to work. I completely forgot what I had been studying and immediately got a job in the hotel. I loved it from day one.
What was it that made the decision so easy and so instantaneous for you? I think it was just the beauty of the hotel and the ambience. Everything was so incredible to look at, like here at Kahala.
You've been at Kahala for a long time now, 10 years or more. Yes, and I've moved through different positions. For a long time I was hotel assistant manager, then I became responsible for training and then I became involved in creating some fun programs for the hotel.
Including the Food and Wine Classic. Yes, and we're very happy with how that has taken off. It's really established now as a great food and wine festival. We'll welcome Emeril Lagasse back in the spring, and we hope to announce a few other celebrity chef guests for next year, too.
I think guest services is about the most challenging of all hotel positions. It might be (laughs). It's partly because you're always on and you have to give 100 percent all the time to every guest. So when you're here, you are working all the time.
How do you relax? I have two children, one is just 10 months old, and we do a lot of different things together. We go to the beach, play at the tide-pools - anything to do with nature is enjoyable.
Do you cook when you go home? No. I don't have to. Everybody in my family cooks: My mother-in-law is a great cook, my brother is a chef, my sister-in-law cooks. I am a very good food critic, though.
What's always in your fridge? Milk for my girls.
Favorite restaurants? My family and I always eat at Harbor Village Cuisine at Koko Marina. All the choices are good and the owners recommend the best dishes. Their signature dish is the live Dungeness crab with garlic and chili. We ate there just last week for my father-in-law's birthday, and my favorite dish on the table was the sweet and sour sea bass fillet.
With whom would you most like to have dinner at Hoku's? My family. My parents have been such a huge influence on me. My mother taught me to enjoy life and be positive no matter what the situation. They would be my perfect dinner guests, although if there was ever an opportunity to chat with God, I think that would be the ultimate!
Most Recent Comment(s):