Glenn Chu

By
.(JavaScript must be enabled to view this email address)
Friday - July 04, 2008
Share
|

Del.icio.us
|

Podcast
|
WineAndDineHawaii.com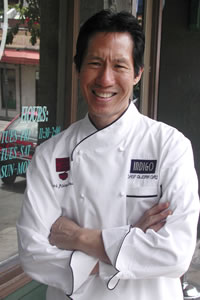 Title: Chef /owner Indigo Restaurant
Where were you born and raised?
In Hawaii. I grew up in Manoa. I moved away in the 1970s and then came back and opened Roxanne Patisserie. Indigo opened in 1994, and we started our catering business soon after. Today our catering business is one of the best-known on the Island.
How do you describe the food at Indigo to someone who's never been to the restaurant?
Well, firstly, I tell them that the food we cook is the kind of food I like to eat! The food is really an interpretation of my grandmother's food. For example, our sticky rice wrapped in bamboo leaf with kalua pork is naturally something that you might find in Chinatown - but you won't find it with kalua pork. Our food is familiar, yet different ... an interpretation of traditional dishes.
Indigo has a reputation for being very hip and very culturally aware. Your family is an artistic group, too, I hear.
Yes. (smiles) My wife does our artwork, and our daughter is a drama student in Cambridge, England. She's starting at the Old Vic in Bristol in September.
What's the most important element to running a successful restaurant?
Hospitality. It is the key ingredient in completing the dining experience. No matter what happens during the evening, a good server can make all the difference. Without good service and genuine hospitality, the dining experience isn't complete.
Where do you like to eat?
Mariposa, because of the service.
Do you cook at home?
All the time. Typically lots of vegetables, grilled chicken, fish ... simple dishes.
What's always in your fridge?
Yogurt, good bread and great coffee.
Who inspires you?
My grandmother, because everything goes back to her and the way she cooked and the influence she had on me as a child. I can still feel her presence when I'm making gin doi, pressing down the dumplings and making them perfectly round.
With whom would you most like to have dinner?
My grandmother, of course, and anyone else who is passionate about food and dining. Connections with people - especially the kind we make over food - are what bind us together.
Most Recent Comment(s):