Glenn Tamura

By
.(JavaScript must be enabled to view this email address)
Friday - November 24, 2006
Share
|

Del.icio.us
|

Podcast
|
WineAndDineHawaii.com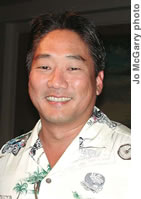 Glenn Tamura
Glenn Tamura is the president of Tamura's Fine Wines and Liquors. He originally followed his father Herbert into the family business, and has gradually increased the profile of his stores to include fine wines and spirits. Today, Tamura's wine sales are among the highest in the state, and Glenn remains committed to bringing great value to Hawaii.
Age: 43
I know that your family has been involved in the grocery business for decades, but how did you get started?
Well, obviously my dad was a huge influence, and I was around the business my whole life. When I was in college my dad seriously suggested to me that I should get into the business. He says I was born a "people person."
There are a lot of new products at Tamura's on Waialae Avenue and a growing range of fine foods - can we expect to see more fine foods and wines in the future?
Yes, we're striving for a greater balance of fine foods to complement our wines. We also have a growing range of organic produce - including organic beers and wines.
Tamura's offers wines at some incredible prices. How can you consistently bring in great quality, inexpensive wines?
We work with very high volume, so we're able to purchase wines at considerable discounts. Our buyers work hard, constantly tasting new wines for purchase. Bringing value to Hawaii is something that's important to Tamura's.
Would you tell us a little about the reserve and allocated wines you stock?
We have a Reserve Room at the store for wines that are in very limited production. We usually have to limit these wines to one bottle per person -allocated wines are in great demand!
Where do you like to eat when you're done working?
I like to eat at all the neat little restaurants around town - especially the mom-and-pop/chef-owner kinds.
Favorite dishes at any of these restaurants?
They all have something different to offer - not just food you'll find on any menu. I'll order their specialties when I'm there.
Do you cook at home?
No, I eat out almost every night.
What's always in your fridge?
Beer, bottled water and Gatorade.
Who's been the biggest influence on your life so far, and how?
My father. He taught me a lot about people and about being in this business.
How do you relax?
Have a beer or glass of wine with friends.
If you hadn't been in the food and wine business, what do you think you'd be doing today?
I'd be a doctor.
With whom would you most like to have dinner?
Derek Jeter of the New York Yankees.
What's your favorite movie?
I have several: Top Gun, Pretty Woman and Remember the Titans.
Anything new happening at Tamura's?
Yes. We're looking at new locations and should have news on the latest fine wine stores soon.
Most Recent Comment(s):