Goran Streng

By
.(JavaScript must be enabled to view this email address)
Friday - April 02, 2005
Share
|

Del.icio.us
|

Podcast
|
WineAndDineHawaii.com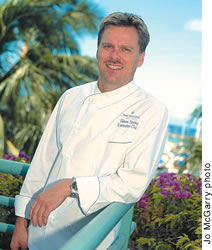 Goran Streng is the executive chef at the Hawaii Prince Hotel.
As well as being responsible for overseeing restaurant food, banquets and maintaining the reputation as one of Honolulu's best-loved buffets, he is a great advocate for local farmers and uses fresh local produce whenever he can. He spent his formative years in Finland, but has formed a strong bond with the Hawaiian Islands that began with his long stay at the Mauna Kea Beach Hotel. There he learned an appreciation of the "real" Hawaii that has stayed with him ever since.
I asked him what his favorite dishes are and what ingredient he could not live without.
Name and title:
Göran Streng Executive Chef, Hawaii Prince Hotel.
Age:
46
First professional cooking job:
At a restaurant called Hwitträsk outside Helsinki. That's also where I did my apprenticeship while in culinary school.
Culinary influences:
No one in particular, but at the age of 13 I decided it would be a good way to travel and see the world (I'd planned to work on a ship).
Favorite dish at a Hawaii restaurant?
Dim Sum in Chinatown.
Favorite dish at your own place?
Roasted onaga with a lobster mushroom ragout.
What's always in your refrigerator?
Knäckebröd, a Scandinavian crisp rye bread.
What do you eat when you've finished a long shift in the kitchen?
Usually nothing, because you don't really feel hungry until later, so I sometimes just grab a banana, because I know I'll be starving by the time I get home.
What motivates you?
My family.
Who would you most enjoy cooking for (dead or alive)?
Any heads of state.
What ingredient could you not live without?
Mushrooms.
Most Recent Comment(s):
Commenting is not available in this weblog entry.