Grant Murata and Kyle Matsumoto

By
.(JavaScript must be enabled to view this email address)
Friday - October 17, 2008
Share
|

Del.icio.us
|

Podcast
|
WineAndDineHawaii.com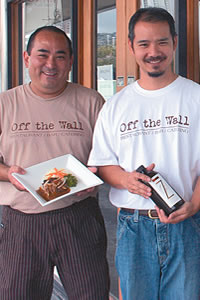 Jo McGarry is on vacation; This story is written by Kerry Miller.
Grant Sadami Murata (pictured far left) is co-owner of Off The Wall restaurant at Pearl Kai Shopping Center along with Kyle Matsumoto (near left).
How did you get your start in the food and beverage industry?
I guess I should be very honest and say that I really would never have dreamed in my wildest dreams I'd be doing this. My background is in the tourism industry. When 9/11 happened, the tourism industry went flat, my friend asked did I want to start an Okinawan food restaurant. One my passions in life is I'm an Okinawan musician; I have a lot exposure to that life. I got my start opening an Okinawan food restaurant downtown. I worked at Asahi Grill at Ward and got to learn a lot of Japanese stuff. Food we feature at Off The Wall we put together. Kyle kind of throws things at me, we look at it and put our little slant on it. I went head first into this. In many ways, I learned from doing.
Who's had the most influence on your career so far?
For Okinawan food my mentor is a lady named Kiyo Irei. For my Japanese stuff, Chef Masato Hatakeyama and, of course, now a great influence on my cooking is Kyle. He definitely throws some wild things at me. We want to create a place I guess we like to say is local food with a twist. That's our catch phrase.
What makes Off The Wall so "off the wall?"
I think it's a little slant we put on the flavors, in the sauces. And a big off-the-wall thing I notice is Okinawan food on the menu, pasta, a Korean dish, and we have this bacon-wrapped shrimp and it's diced in a soy garlic vinaigrette. Or some tastes people might not think of putting together. That's what makes us off the wall - dishes from all over the place thrown into one place. We're still working on some more off-the-wall things.
How did you and Kyle happen to become business partners?
Kyle has a friend who is like a brother to him, and he came to learn Okinawan music from me. He and I developed our student-teacher relationship. I consider him like my younger brother now. We became like brothers. We would always get together to have some food. He (Kyle) decided to venture out on his own; I was getting ready to leave Asahi Grill and we sat to talk. In any business, partnerships are hard, you know. We felt that it's something that could work. We had the passion.
Do you cook at home?
I think my home is more off the wall. We have some kind of stir-fry vegetables, maybe kim chee on the table, Filipino stuffed pork. My influence is highly Okinawan. My wife is from Okinawa. I always tell people I cook, but I like my wife's cooking better.
What's your favorite dish at Off The Wall?
That would be the soba pasta - Okinawan soba noodles with Okinawan-style shoyu pork with bits of choi sum. It's sauteed in some Okinawan shoyu pork sauce and ginger wine ver blanc, topped with Japanese red ginger. That has become a dish that catches the eye.
What do you do for fun when you're not working at Off The Wall?
Music takes up most of my time and, of course, a lot of time is spent with my little boy - my youngest son is 6.
Most Recent Comment(s):