Greg Gabaon

By
.(JavaScript must be enabled to view this email address)
Friday - January 16, 2009
Share
|

Del.icio.us
|

Podcast
|
WineAndDineHawaii.com
Job Title:
Executive Sushi Chef, Sansei Seafood Restaurant and Sushi Bar.
Where were you born and raised?
I was born in the Philippines and then came to Hawaii.
How did you get started in the food and beverage industry?
I started as a dishwasher, but right from the beginning I was always really interested in what was happening in the kitchen. I went to different hotels and worked my way through all the stations until I learned about Japanese cooking, and that's where I decided to stay. I've been with Sansei for eight years now.
What is it about Japanese cooking - and sushi in particular - that appeals to you?
Sushi is what I like best. It's away from the hot stuff in the kitchen so it's cool - and I like cooking for people and watching them enjoy the food. I like the customers, and I like the creative side of sushi, too.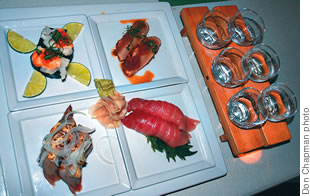 Sansei sushi and sake samplers
There's a lot of new sushi at Sansei. Do you change the menu often?
Well, we like to keep things different. The new sushi right now is really popular - and different. There are a lot of new sashimi dishes with different sauces ... infused flavors ... cultural influences. Creating new sushi is a real team effort at Sansei. We all throw ideas around and then do tastings together.
Do you have a favorite restaurant when you're not at work?
I'd say Japanese restaurants of all kinds. It's my favorite kind of food.
Do you cook at home?
No! My wife cooks.
Sushi bars are great places to meet interesting people. Anyone interesting ever come to your bar?
Michelle Wie used to come in every month, but I think she's so much busier now! Mostly all the PGA golfers come when they're in town.
Who would you most like to see enjoying sushi at Sansei?
(laughs) Well, Jessica Alba would be nice!
Most Recent Comment(s):