Greg Johnson

By
.(JavaScript must be enabled to view this email address)
Friday - October 31, 2008
Share
|

Del.icio.us
|

Podcast
|
WineAndDineHawaii.com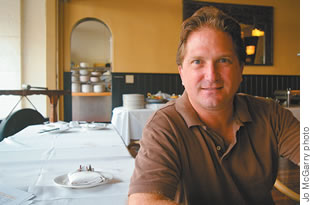 Title: So the Hard Rock ignited your interest in the industry?
Where were you born and raised? Santa Barbara and the beaches of L.A.
When did you come to Hawaii?
I came 23 years ago to open the Hard Rock Café and I've been here ever since. I came to Hawaii a lot as a kid - surfing and diving and sailing - so I knew it was somewhere I wanted to work and to live.
So the Hard Rock ignited your interest in the Industry?
Yeah, pretty much. My job, even though I started really young, was to train management and train new staff from the ground up at Hard Rock. I started cooking earlier in my career, but it was clear I wasn't going to be a chef. I was already hooked on the whole F&B thing. I just thought the front of the house looked so much more exciting than the kitchen - more beautiful women.
What do you like about the food industry?
I like the immediate gratification. It's very dramatic - guests come in and an hour and a half or two hours later, they've had a great experience.
Indigo's catering operation is highly regarded. You cater most of the large corporate events in town. How long have you done this?
Well, Indigo catering actually started long before the restaurant did. We have staff who have been with us for 25 years. I came to the company 11 years ago. We do conventions and corporate catering, weddings, and we also do smaller private parties.
What's the largest event you've done?
10,000 people. It's not that different than an event for 100 - you've just gotta ramp it up!
Well, you need a bit more energy, I'm sure.
Of course. I've often been accused of hyperactivity. At school my nickname was "Flash." I was the kid climbing the flagpole and maintaining a straight-A average.
Where do you like to eat when you're not working?
My family (I have two great kids) likes to eat at California Rock 'n' Roll Sushi. Kids are welcome there; it's a real relaxed atmosphere.
You trained in the kitchen. Do you cook at home?
I do. Lots of grilling: fresh fish, great steaks, sushi, anything really.
Who's your competition in catering?
I don't know. I never go to events.
Where do you see Indigo going in the next 15 years?
Indigo doesn't rest on its laurels. We're excited about the future, and we're all looking forward to what's ahead.
Most Recent Comment(s):