Gregg Fraser

By
.(JavaScript must be enabled to view this email address)
Friday - May 25, 2011
Share
|

Del.icio.us
|

Podcast
|
WineAndDineHawaii.com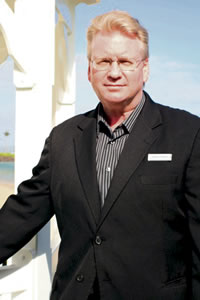 Gregg Fraser Director of Banquets, Kahala Hotel and Resort
Where were you born and raised? I was born on Long Island, New York, and came to Hawaii as a teenager to live with my dad.
What was your first job in the industry? A busboy at Sizzler, Koko Marina. I started working there in 1978. But it was Dickens Pub (now GyuKaku) that got me really into the industry. The restaurant was full of imported British wood and artifacts, and had lots of ambience. It was wonderful. From the get-go I loved the whole restaurant scene.
You worked at another restaurant I think a lot of people will remember. Yes, Zorro's Pizza. It was really big in Waikiki - 96 cents a slice of pizza was their thing. It was so popular we grew in four years to have five locations.
As banquet director at Kahala you have to deal with more than your share of brides. We do approximately 600 weddings a year. Some days, depending on the date, we can do anywhere from six to 10 weddings.
So, 11-11-11 might be a busy day? Yes, exactly.
Do you cook at home? I like to cook. I prefer to be the mixologist more than the chef, though.
What's always in your fridge? Soy beans, and some kind of fish. And of course some wine and other cold beverages.
Favorite spots to eat? Hoku's. It's hard to go anywhere else. For me, this place is the most incredible experience. My wife and I have our wedding anniversaries here - we bring friends here. It's tough to find something to compete. Although with two teenage kids we go to Big City Diner and Dave & Buster's often. My son is on the offensive line at Saint Louis, so a huge burger at Big City Diner works well for him most of the time.
With whom would you most like to have dinner at Hoku's? I think memories of childhood would have me ask my grandfather, who was a great inspiration to me. He was an executive at Mattel in New York, and I still remember taking a train into the city and seeing the new toys in his office, not yet on the toy store shelves.
Kahala sets a pretty high standard for food and beverage. What's key? People already have a really high expectations level when they come here. They know the location, they know what to expect in terms of ambience, they know the food will be wonderful. When we match those heights with incredible service, then we've pretty much exceeded their expectations. That's what we try to do every day.
Most Recent Comment(s):