Gregory Y. L. Lau

By
.(JavaScript must be enabled to view this email address)
Friday - October 05, 2007
Share
|

Del.icio.us
|

Podcast
|
WineAndDineHawaii.com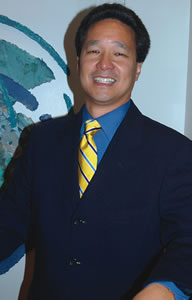 Gregory Y. L. Lau
Title: Manager, Hale Koa Room, Hale Koa Hotel
Age: 46
Where were you born and raised?
Honolulu.
Where did you go to school?
Punahou and then Kapiolani Community College.
What sparked your interest in the culinary world?
When I was child, my father would entertain business associates, and he always brought his family everywhere he went, so we kids got to tag along. I would always watch the staff, and I thought that it looked like fun. I originally wanted to be a chef, but when I went to Kapiolani Community College and took cooking classes I found that it was too repetitive and monotonous for me. At the same time I had dining room classes, which I found to be much more enjoyable.
First industry job?
My first restaurant job was at Protea at the Prince Kuhio Hotel. I started as a bushelp and told my first manager that my goal was to be in his position - four years later I was.
What keeps it interesting for you today?
I think for me, it's the guests. It's always fun to come to work each day and to meet new people and to see them leave us happy.
The Hale Koa Room is something of a hidden secret. How do you describe it to guests who've never been?
I tell guests that it is a great restaurant with great value. The food is delicious and the portions are generous. The atmosphere is subdued, subtle and pleasant.
Is it purely limited to military, or can anyone try the restaurant for an evening?
There are limitations to accessing the food and beverage facilities at the Hale Koa Hotel, but if you know anyone who is in the military or a Department of Defense (DOD) employee, you can always join them.
What's your favorite dish on the menu?
Roast rack of lamb. It's oven-roasted with a Dijon mustard and garlic crust and served with a sweet corn and Cheddar souffle. It makes my mouth water just thinking about it!
Do you cook at home?
Yes, I love to cook and bake. I make a big, thick rib eye steak cooked medium-rare with a big serving of rice. Gotta have the rice.
What's always in your fridge?
Milk, butter and eggs. You can do a lot with those three ingredients.
If you could invite anyone to dinner at Hale Koa Room, whom would you ask?
My dad - he never got to eat in this restaurant before he passed away, but he would have loved it.
Has anyone in particular had an influence on your career path?
My parents - they were always so supportive.
Most Recent Comment(s):