Guillaume Burlion

By
.(JavaScript must be enabled to view this email address)
Friday - August 18, 2006
Share
|

Del.icio.us
|

Podcast
|
WineAndDineHawaii.com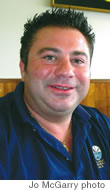 Guillaume Burlion
Guillaume Burlion is the executive chef at Diamond Head Grill, located inside the stylish W hotel in Waikiki. He's had an illustrious career so far, working with acclaimed chefs Patrick Lenotre, Paul Bocuse, Roger Verger and Joel Rubuchon in Michelin-starred restaurants, including Le Pre Catalan, Hotel de Crillon and world-famous Maxim's. At Diamond Head Grill he seeks to utilize local produce, blending it with a menu of exotic ingredients from around the world. Here he talks about his early influences, creating his own style, and why he's happy eating anywhere - as long as the food is good.
How did you get started in the culinary world?
My great grandmother was the cook in our home in Paris. She always had a towel over her shoulder, because basically she cooked all day long. When she was 98 years old and I was 13, she said to me, "You're going to carry the towel." She taught me the basics, and then I decided that I had to make my own style. So I trained in France for a short while, and then I traveled to different countries to get a sense of different techniques and styles. I went to Switzerland when I was 16 and carried on traveling and working from that point. I worked only in Michelin three-star restaurants, and that became my schooling.
When you were 19 you were chosen to cook for President Mitterand, at 28 you were featured in an article by the Los Angeles Times that described your food as "like nothing else," at 30 you were inducted into the Confrerie de La Chaine des Rotisseurs, and then at 32 you were voted by The New York Times as one of the best chefs in America. Was that hard to handle at a relatively young age?
(Laughs.) No, not really. But I am a humble guy, so it's better that people come and try the food themselves. What people think now is important, don't you think?
Who's had the most influence on you thus far?
Patrick Lenotre, Jean Paul Bocun, Paul Bocuse and Roger Verger would be some of the people who influenced me.
How do you describe your style at this point?
You know, I have always liked to change things. I like to make different things every day and not just stick to the same menu. It's boring to do the same food every day. I think part of my style is that I pick up ideas from different places and then I change them. That's my style. You could say it is creative.
What kind of foods do you most like to eat?
This is a good question, because some people say they don't like certain foods or they won't try certain things. I like everything that tastes good. Food is food - it's how good it tastes that matters.
What's always in your fridge?
Cheese.
Have you found any favorite restaurants in Hawaii?
Many! I love Japanese food and I love this place where we are right now, Kiawe Barbecue Grill.
What excites you most about being in Hawaii?
The produce is so fabulous. I use 50 percent local produce and bring in 50 percent of other ingredients from around the world. That way I can mix caribou, buffalo and exotic meats and fish with local Hawaii ingredients. That's what I like to do best!
With whom would you most like to have dinner?
Well, you, actually, because you seem to know where all the best food in town is - and I want to know that too! (Laughs).
Most Recent Comment(s):