Guy Maynard

By
.(JavaScript must be enabled to view this email address)
Friday - July 20, 2007
Share
|

Del.icio.us
|

Podcast
|
WineAndDineHawaii.com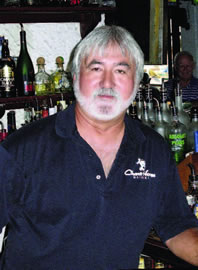 Guy Maynard
Guy Maynard, 55, is bartender at the Chart House in Waikiki. One of the best-known bartenders in Honolulu, he's the creator of numerous award-winning drinks including the Guy Tai, Midori Melon and Chopin Grand Finale. He makes everything behind the bar from scratch, including his own lemonade and mixers. His cocktail recipes have been featured in national beverage magazines.
"I don't like the strong grocery store mouthwashes. Durafresh tastes like Peppermint water, but highly effective. It makes your teeth feel clean all day!"
Where were you born and raised?
I was born in Okinawa and raised in Iowa. My mom is Okinawan; my dad is of Welsh and English descent and grew up in Iowa. I came to Honolulu in 1960.
Where did you go to school?
UH and KCC. I majored in chemistry, but I'd already started working in the food and beverage industry when I was in high school.
Tell us something that people might not know about you.
I was an optician for 15 years. I ran a place in Puck's Alley for my dad for seven years and then worked with him in Waikiki for eight. But I was bartending on the side and making more money.
Where was your first job?
At the Blue Goose, where Eastside Grill is now. It was a really rowdy, pool table, draft beer kind of a place. We had fights every night. I was about 125 pounds at the time and we were always having to carry guys out. It was wild!
So that convinced you that bartending was a better career path to follow than optometry?
(Laughs) Well, I liked the guys I hung out with after work, I liked the lifestyle and I knew that I could be good at it.
How about mentors?
I worked originally with three great guys: Hank Griffin, Peter Olsen and Ron Taguchi. They were the best bartenders in the business. It took me 10 years to go from the bottom to the top, and all of those guys taught me something.
How did you get into competitive bartending?
I saw a couple of colleagues win $500 each at a contest and I thought, 'I'm in!' Since then I've won about 16 contests with prizes that have included trips to the Mainland and cash.
What's the most challenging part of your job?
Just the fact that there's so much more to it than making drinks. You have to be aware of so much when you bartend - the dynamics, the customers, everyone's needs, and the atmosphere. You have to stay on it all the time.
What's always in your fridge?
Gatorade, miso and English muffins.
Most Recent Comment(s):