Harold Beltran

By
.(JavaScript must be enabled to view this email address)
Friday - April 29, 2009
Share
|

Del.icio.us
|

Podcast
|
WineAndDineHawaii.com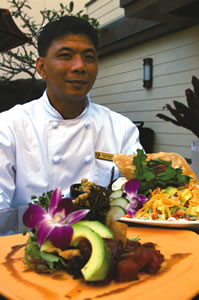 Occupation: Kitchen Manager, Outrigger Reef on the Beach Waikiki.
Where were you born and raised? I was born in the Philippines and came to Hawaii when I was 12. Went to Farrington and then to KCC.
First industry job? Arby's at Pearlridge. Then I had a friend working at Ryan's who helped me get into my first real restaurant job.
What's the food style at Kani Ka Pila Grille?Very influenced by Pacific Rim, but we put a twist and something different in there. I like to give it my own style. Like our poke nachos for example. There's one menu here that runs all day, so people can try the food anytime.
Do you cook at home? Yes I do. My friends are always trying to challenge me to come up with new things. I try to come up with something different every time they come over.
What's always in your fridge? Fresh vegetables. Gotta have them. I rarely buy anything that's canned or prepared. I'd much rather cook all the time and challenge myself .
Who'd you most like to invite to Kani Ka Pila for dinner? Anyone really who's going to give me an honest opinion on the food. Anyone with an open mind who wants to try new things.
Best part of the job? The fun of cooking with passion, and the customers.
What's something that people might be surprised to know about you?
That I can fix any problem on a car.
Kani Ka Pila Grille Outrigger on the Reef on the Beach Waikiki 924-4992.
Most Recent Comment(s):