Hector Morales

By
.(JavaScript must be enabled to view this email address)
Friday - June 23, 2010
Share
|

Del.icio.us
|

Podcast
|
WineAndDineHawaii.com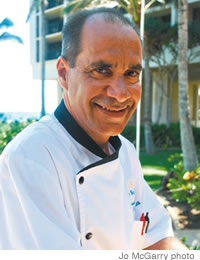 Job Title: Executive Chef, Turtle Bay Resort.
Where were you born and raised? Born in Puerto Rico, and I grew up in New Jersey. I went to Johnson and Wales (business school), spent time working in Europe and came to Hawaii as executive chef on the SS Independence and Constitution. I joined Turtle Bay in 2006.
Who inspired your culinary career? Oh, my mom. She was the best cook in the world. She made incredible food and I loved watching her cook. I grew up in a tiny neighborhood in New Jersey, and my first job was in one of those classic Italian neighborhood restaurants where the food had to be good.
I think you've finally hit the perfect spot with 21 Degrees North. Congratulations.
Thank you. Yes, we wanted to finally do our own thing and focus on the North Shore. Everything on our menu is grown here. It's all organic, and we have a great relationship with the farmers. I even have someone farming barramundi (fresh-water fish) for me.
Who would you most like to see having dinner at 21 Degrees North? Alan Wong and Chef Mavro. I haven't had time to invite them up here yet, but I will. I'd like to hear what they have to say about our food.
Do you cook at home? All the time.
What's a favorite dish? Grilled fresh fish, a beautiful salad and that's it ... maybe a bottle of wine.
What's always in your fridge? Tabasco and fruits and vegetables from North Shore farmers.
Favorite kitchen tool? A 12-inch French knife.
Something about you that might surprise people? I'm a professional drummer. I play jazz, heavy rock, and I still play gigs when I can. And I speak Norwegian!
Most Recent Comment(s):