Henry Adaniya

By
.(JavaScript must be enabled to view this email address)
Friday - July 13, 2007
Share
|

Del.icio.us
|

Podcast
|
WineAndDineHawaii.com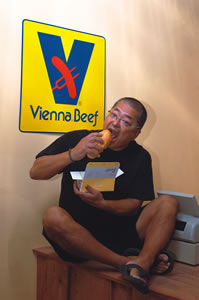 Henry Adaniya
On July 16, Henry "Hank" Adaniya opens Hank's Haute Dogs at 324 Coral St. After years of running award-winning fine dining restaurants in the Chicago area, he's fulfilling a dream by opening a gourmet hot dog shop in Honolulu.
Where did the Haute Dogs concept start?
It's kind of embryonic, literally. My parents, Wally and Yo, ran The Beach Grill, a little hot dog stand in Kapiolani Park between 1941 and '53. They moved to the Mainland when my mom was pregnant with me. My dad didn't want to have anything to do with restaurants after that, but I heard the stories and always thought, wow, hot dogs at the beach, why would you ever leave that?
What started you in the restaurant business?
I started out in engineering, but I fell in love with food and cooking, and by my mid-20s I was working in restaurants. In the early 1980s we did nouvelle cuisine. In 1993 we opened the most progressive restaurant in the country, Trio, in Evanston, Ill. Chef Grant Achatz started with me there, and today he's running what Gourmet magazine calls the best restaurant in the country, Alinea, in Chicago just down the street from Charley Trotter's. Grant will be here for the opening.
What brought you to Hawaii?
I've visited over the years, and always felt a sense of connection. I always knew I wanted to be in Hawaii and do a re-creation of The Beach Grill.
What kind of hot dogs will you serve?
Vienna brand, the classic Chicago dog. It has an all-natural casing that has never been seen in Hawaii. We're also using Vienna buns, they're great. And Chicago-syle means lots of condiments, the works - "drag it through the garden," they say. A Chicago dog is beautiful with a lot of complexity in the toppings. We'll also have a Polish dog. Our brats are Usinger, Milwaukee's finest. The Italian dog is sausage cooked in tomato sauce. We also have chorizo, andouille, even a duck and foie gras dog. And I love a grilled Portuguese sausage from Kukui. We're also working on some custom dogs - lobster, rabbit, boar, buffalo, venison.
What can always be found in your refrigerator at home?
Beer - I don't do much cooking at home.
Who would you love to see at the opening of Hank's Haute Dogs?
My dad. To see Wally there ... wow. But he will be there. He's passed, but I know he'll be there in spirit. He was originally from Honokaa on the Big Island. I wouldn't be doing this if he hadn't had that stand at the beach years ago.
We might have guessed that with your background you'd do a fine dining restaurant here.
It's in my blood, and I'll probably end up doing something like that. But I'm a person who believes in following your dreams, and this hot dog shop is my dream right now.
Most Recent Comment(s):