Hiroshi Fukui

By
.(JavaScript must be enabled to view this email address)
Friday - September 02, 2005
Share
|

Del.icio.us
|

Podcast
|
WineAndDineHawaii.com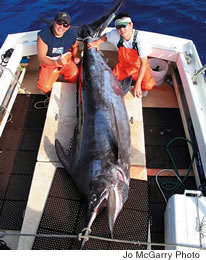 Hiroshi Fukui is the executive chef at Hiroshi's Eurasion Restaurant.
Age: 40
First restaurant job?
I was a dishwasher at Furusato Restaurant in Waikiki when I was 16.
Who has influenced you most in your career?
My late father; he was a chef and always used to give me pointers about food and cooking.
Favorite dish at your own restaurant?
Kona Kampachi Carpaccio. It's a really clean-tasting dish where you can taste the flavors of the fish, as well as our homemade ponzu, fresh ginger and hot peanut oil.
Favorite dish at other Hawaii restaurants?
Seared ahi at Ethel's.
What's always in your fridge?
Ice cream.
Favorite late-night snack?
Ramen at Nakamura on Beach Walk in Waikiki. They're known for their Tonkutsu-style soup — which is very white, rich and creamy rather than the traditional clear shoyu or shio style.
Who would you most like to invite to the restaurant for dinner, living or dead?
My dad. I never got to cook for him.
Anyone you'd really like to sit down with for a glass of wine and a good chat?
My second passion is playing guitar, so it would be Marty Friedman and Eddie Van Halen.
What makes working in the food and beverage industry fun?
Meeting a lot of people. Every day is so different.
Any downfalls?
Well, always being around food and alcohol!
What do you do to relax?
I go deep-sea fishing (pictured here on the right with Jeff Kagihara) a couple of times a month if the fish are biting. I've been fishing since I was about 22, but recently my friend Brendt Chang (a commercial fisherman) and I have been catching some pretty decent fish. Last week we caught three ahi weighing between 110 and 140 pounds. Two months ago we caught a 550-pound marlin.
Most Recent Comment(s):