Hiroshi Fukui

By
.(JavaScript must be enabled to view this email address)
Friday - August 11, 2010
Share
|

Del.icio.us
|

Podcast
|
WineAndDineHawaii.com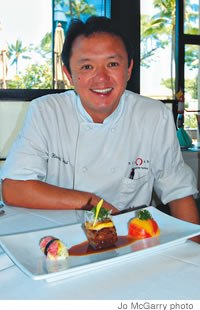 Occupation: Executive Chef, Hiroshi Eurasion Tapas
Where were you born and raised? Yokohama, Japan. I moved to Maui when I was 12 years old. My father was from here, and he and I both had dual citizenship. My mother died when I was 11 and my father decided to move us to Hawaii.
Was your father a good cook? Yes. He cooked at the Royal Hawaiian and the Sheraton. He cooked simple things like turkey tails, which I've tried to re-create, but they never come out the same, of course.
First job in the industry? I started working at Furusato, Waikiki, as a dishwasher. We were doing 600 covers a night, so it was tough. I watched the chef and decided I wanted to create things like he did. As soon as I started cooking, I knew it was what I wanted to do.
What's the difference between your training and how you teach your students? It was strict back then. You couldn't write down the recipes, you had to watch. Nowadays I have an open book when we're training our guys. And there's a lack of discipline, I think, in the younger generation.
Do you cook at home? Not much. I hate to cook for myself.
What's always in your fridge? Romaine lettuce, alfalfa sprouts, Japanese salad dressing from Don Quijote and frozen chicken breasts.
Favorite kitchen gadget, next to your knife? Skewers. I always have them in my pocket to test the consistency of fish.
Favorite restaurants for comfort food? Rainbow Drive In and once in a while Grace's. If I'm out really late I go to Zippy's and eat their no-bean chili frank with brown rice.
Who'd you most like to see come to Hiroshi's for dinner? Last week I had the honor of meeting Johnny Depp at Apartment3. He said he'd come by for dinner, so I hope he does.
Most Recent Comment(s):