Ira H. Mueller

By
.(JavaScript must be enabled to view this email address)
Friday - November 03, 2006
Share
|

Del.icio.us
|

Podcast
|
WineAndDineHawaii.com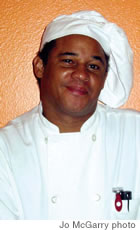 Ira H. Mueller
Title: Chef at A Taste of New York Steakhouse in Kaimuki.
Age: 44
Where were you born and raised?
I was born in Philadelphia and moved to Hawaii when I was 5. I attended Lehua Elementary and Highlands Intermediate before returning with my dad to Philadelphia.
Culinary schooling?
Opportunities Industrialization Center in Philadelphia. Course work was in food preparation and services, and I also attended Philadelphia Institute Of Culinary Arts.
What started your interest in the food and beverage industry?
At the age of 8 while on a visit with my father, I cooked my first meal,which consisted of pork chops with gravy and onions, potatoes and spinach. My father was an excellent cook, and taught me the basic skills. He taught me to appreciate food and the subtle flavorings of spices.
What's always in your fridge?
Eggs, butter, tomatoes, scrap-ple and bacon. Scrapple is a meat product sold in the TriState area, and is primarily a breakfast food, consisting of pork, chicken and beef. It is sold in Hawaii only at Safeway stores.
Do you cook at home?
Most definitely! My girlfriend and I love to eat, and we prefer to eat at home to eating out.
What is your best dish?
Can't choose! My best dishes are what my girlfriend likes, or anyone who I am cooking for likes. There are several things I like to make, such as pork yak (pork and gravy over angel hair pasta garnished with sweet onions), barbecue ribs, fried chicken, hamburger steak and German tomato salad (bacon, tomatoes and onions in a mayo sauce).
What's your favorite late night snack?
Fried tomatoes, scrapple and eggs.
You make a pretty mean baked potato. What's the secret?
As soon as the potato is done baking, wrap immediately in foil. This keeps the potato from drying out and keeps it moist inside.
Can you describe the food at A Taste Of New York Steakhouse to those who have never been?
The steaks are to die for. If you have never had a great cut of dry-aged, certified prime Angus beef cooked to perfection, and I mean a BIG steak, cooked the way a steak is supposed to be cooked, then you need to come in and let me prepare one for you. You will be back.
Who have been your biggest influences?
My father and mother. Growing up with no sisters, and being the youngest of five boys, my parents taught us how to take care of ourselves, cooking, cleaning and shopping.
With whom would you most like to have dinner?
My family: myself, my girlfriend Sue, my two kids Mark and Dana, and her two kids Lia and Justin. I lost both my parents within a few days of each other this past March, and my father never met my girlfriend or her kids.
Favorite dish on the menu at A Taste Of New York Steakhouse?
The 20-ounce rib-eye, cooked medium with sautéed mushrooms.
If you weren't in this industry, what would you be?
I would be in the health care industry. I was a paramedical assistant working for the state Department of Health at Waimano Home before it closed down. I worked with special needs adults, and it helped me to understand and work better with my daughter Dana, who is autistic.
Most Recent Comment(s):