Isaac Bancaco

By
.(JavaScript must be enabled to view this email address)
Friday - December 29, 2010
Share
|

Del.icio.us
|

Podcast
|
WineAndDineHawaii.com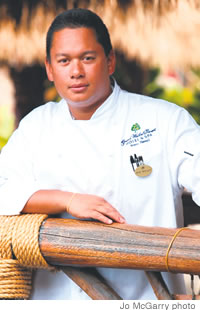 Title: Executive chef, Humuhumunukunukuapua'a restaurant, Grand Wailea, Maui
What sparked your interest in cooking?I love to eat great food! As far back as I can remember, I was always fascinated by the diverse aromas of my grandmother's kitchen.
How do you describe your cooking style? I cook what I ate as a kid growing up on Maui. My heritage derives from five different cultures. I take those flavor combinations and ingredients, and put a modern twist into the food I create now.
Tell us a little about the food at Grand Wailea's signature restaurant Humuhumunukunukuapua'a is a thatched-roof restaurant that appears to float on a million-gallon saltwater lagoon that's home to more than 2,000 fish of different species. The cuisine reflects the décor, offering a wide range of fresh from-the-sea delicacies like carpaccio of Japanese hamachi, hand-caught Kipahulu spiny lobster and crab-crusted Hawaiian hapu'upu'u (sea bass).
Do you cook at home? My favorite thing to cook is a ribeye. I simply season it with alae salt and pepper and slap it onto the grill with kiawe wood burning below. It goes well with hot rice, tako poke, chili pepper water and an ice-cold beer.
Favorite restaurants when you're not working? I'm a regular at Grandma's Coffee House in Kula, Maui, for breakfast. Great coffee, coffee cake and gourmet crepes. It's been there for more than 50 years.
Recommended dishes at Grand Wailea? Bistro Molokini's Shrimp and Kobe Beef Burger or our slow-braised beef short ribs.
What's always in your fridge? Eggs, milk, yogurt, soy sauce, beer.
With whom would you most like to have dinner? Dr. Seuss. I remember being amazed by his stories when I was a child, and now that I am a new father, I share those stories with my son and have found a new fascination with them. I would definitely like to have his version of green eggs and ham.
Anything about you that might surprise people?My passion is fishing. Ulua fishing, bottom fishing on the boat, skin diving ... if there's ocean and fish, you'll find me nearby. Our family mission statement is "Catch it, clean it, cook it!"
Best thing about being a chef?The opportunity to communicate and connect with people through a medium I am passionate about. After being on the Mainland for 10 years, I was constantly defined by two things: my culture and my profession. Luckily, they blend well together with really amazing and tasty results. Some of my most-valued relationships are with people who were initially guests at restaurants where I worked.
Most Recent Comment(s):