Ivy Nagayama

By
.(JavaScript must be enabled to view this email address)
Friday - October 21, 2005
Share
|

Del.icio.us
|

Podcast
|
WineAndDineHawaii.com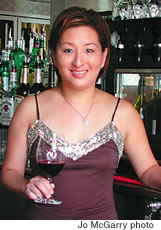 Ivy Nagayama
Ivy Nagayama is the general manager of d.k. Steakhouse in Waikiki. She is one of the few women working in top management-level positions in the food and beverage industry in Hawaii.
She worked for many years at the Halekulani and at Hoku's where she developed a highly sophisticated palate and a great nose for wine.
Where did you go to school?
I graduated from the University of Hawaii-TIM School in 1983 with a BBA in Hotel and Restaurant Management.
First professional position?
Assistant restaurant manager at the Halekulani Hotel. I worked at the Orchid dining room for five years, and then was promoted as a relief assistant restaurant manager at La Mer.
Who has influenced you most in your career?
There are three people who have really influenced me in my career:
1. Chef Oliver Altherr, former Executive Chef at Kahala Mandarin Oriental Hotel: I had the great opportunity to work with Chef Oliver Altherr when I opened Hoku's in 1996. His new ideas on food, and his creativity brought a new level of cuisine to Hawaii. His teaching, training, and influence put Hoku's on the map as a culinary destination world wide.
2. Chuck Furuya: Chuck has been a mentor for a number of restaurant managers in Hawaii. He encourages you to excel, and to always keep abreast of what's happening in the industry. He always encouraged me to stay fresh, and he encourages you to think about ways you can be better at what you do.
3. My husband Terry Shishido: If it was not for his wonderful patience, understanding and encouragement, I do not think I would have excelled at my career!
There aren't a lot of women in your profession at your level - why do you think that is?
I am not sure ... I think there are a lot of women now who are finding out how restaurant management can be a rewarding career.
Favorite dish at your own restaurant?
30-day dry-aged ribeye steak - very juicy and very tasty!
Favorite dish at other Hawaii restaurants?
Chicken Pho from Hale Vietnam.
What's always in your fridge?
Beer for my husband, and lot's of ice cream for me.
Favorite late night snack?
Pizza and saimin!
Can you give us a couple of your favorite wines of the moment?
Since I work at d.k Steak House, here are a couple of my favorite reds which go well with our dry-aged steaks:
Whitcraft Lagrein, "French Camp" 2000: This is an absolutely huge black monster that is amazingly un-heavy. Made by superstar winemaker Chris Whitcraft. Watch out for stains!
Cavaliere, Mechele Satta 1999: This is a world-class, elegant, intriguingly rustic Sangieovese from the Tuscan coast.
What's the most enjoyable part of your job?
Working and developing our great employees. Working with our executive chef Danny Morioka; his leadership and professionalism are always a pleasure. And working with our Mom Kodama (d.k's mom, Sandy), hostess with the mostes'."
She is the most gracious "hostess with the mostest!" And of course it's great interacting with our guests on a daily basis. I'm always grateful for that.
Most Recent Comment(s):