J. Carmen Camposeco

By
.(JavaScript must be enabled to view this email address)
Friday - February 23, 2007
Share
|

Del.icio.us
|

Podcast
|
WineAndDineHawaii.com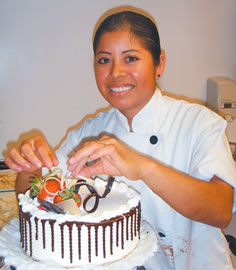 J. Carmen Camposeco
J. Carmen Camposeco, 26, is the pastry chef at Panya Bistro and Bakery at Ala Moana Center, and next month celebrates one year there. A native of Guatemala who attended high school in Chiapas state in Mexico, she came to the U.S. unable to speak English. Eight years later her English is impeccable, and here she speaks of how she accidentally found a career she loves.
Title
Pastry chef at Panya Bistro and Bakery
First job in the industry?
Washing dishes at a little bakery in Davis, Calif. I watched the baker and when I had time helped him out. When the baker left, I told the boss I could do it. It took him a while to trust me, but he let me do it. I really enjoyed it, and after a while he told me that I would never have a chance to grow there. So he took me over to a high-end grocery store, talked to the manager and helped me with the applications, and I got the job. That's when I had to learn English - I took a six-month ESL course.
What is your strength in the kitchen?
Cake decorating - it just comes naturally because I didn't go to school for it. I love it because you use your imagination and creativity.
Do you cook at home?
Yes, green enchiladas are my best dish.
What's always in your refrigerator at home?
Tomatoes - I make a lot of spicy salsa.
Favorite dish at Panya?
Asian chicken salad.
Other favorite restaurants?
Nothing too fancy - the Cheesecake Factory.
How do you relax?
My husband Jason and I like to hike and snorkel.
Best part of your job?
Working with good people. Annie and Alice (Yeung) are the coolest bosses I could have. They're open to new ideas and allow me to experiment with new things, and I love that.
Panya Bistro and Bakery Ala Moana Center 946-6388
Most Recent Comment(s):