Jacqueline Lau

By
.(JavaScript must be enabled to view this email address)
Friday - November 10, 2006
Share
|

Del.icio.us
|

Podcast
|
WineAndDineHawaii.com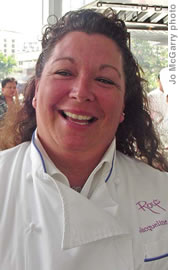 Jacqueline Lau
Jacqueline Lau is one of the top female chefs in Hawaii. As corporate executive chef for Roy's Hawaii, she has gained the respect of her peers and is a role model for other women looking to climb the culinary ladder. Here she chats about how her interest in cooking began - and admits that if you opened her fridge any day of the week, you'd find that beloved Hawaii staple, Spam.
What started your interest in the culinary field?
My parents say that I told them when I was 4 that I was going to be a chef. Apparently I knew very early what I wanted to do.
So food was obviously a central part of your early life?
Absolutely. My family is very much into food and large family gatherings, where everything would center around the table and around food. I was always around that kind of atmosphere.
Where were you born and raised?
Near Yosemite. I grew up in a farm community on a ranch in a very small town. It was a great beginning and gave me good exposure to different kinds of food.
Schooling?
I went to a small mountain community college - similar to KCC - but so small that the campus was subsidized by the California divisional forestry program and the culinary program. There were only a couple hundred students in total.
And how did you come to Hawaii?
My friend's sister lived in Aina Haina, so when we finished with school we came to Hawaii for a break. They convinced me to stay. I had a job waiting for me in San Francisco, but I blew that off to work in Hawaii.
First job here?
I always had lots of jobs - I worked at California Pizza Kitchen and Pacific Broiler, and I worked part time at Sunset Grill, too. But on the plane over here I had a copy of Bon Appetit magazine with a story about Roy Yamaguchi, and it was always my hope that I could work at Roy's. I had a whole bunch of jobs, but I was really just waiting for Roy's to open.
Where do you like to eat when you're not working?
I like to eat anywhere because I so rarely get to eat out. I just enjoy the occasion of eating out - it doesn't matter so much where it is.
What's your favorite dish on the menu at Roy's right now?
That's too hard. Hold on - I'm running through the menu in my head. No, it's too difficult, I just can't pick one dish.
What's always in your fridge?
There's always salsa and wine. Oh, and Spam. My son eats Spam every day!
Who's influenced you most in your career so far?
Oh, undoubtedly Roy Yamaguchi. And being able to travel with him to other countries and work with other chefs has been a really valuable experience in my life.
With whom would you most like to have dinner?
Alice Waters, I've always wanted to meet her. And someone funny - I like to laugh and have fun when I'm eating.
How about some advice to aspiring chefs, particularly women?
You have to present yourself as if you are ready for anything. Don't fall back on "I can't lift that" or "I need help with this." You need to gain respect in the kitchen, especially when you're a woman. By being strong and showing yourself as an equal on all levels, you'll gain a lot of respect.
How do you relax?
I love to work in my garden. Yard work is something I find really enjoyable.
Most Recent Comment(s):