Jake Belmonte

By
.(JavaScript must be enabled to view this email address)
Friday - July 29, 2009
Share
|

Del.icio.us
|

Podcast
|
WineAndDineHawaii.com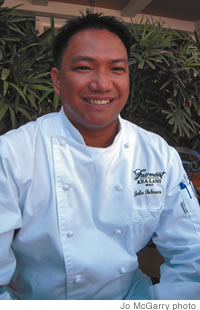 Title: Chef, Ko Restaurant, Fairmont Kea Lani Resort
Where were you born and raised? Born and raised on Oahu, and then I went to live in the Philippines for 10 years before returning to Hawaii.
How'd you get started in the industry? I worked as a busboy while I was majoring in hotel operations. I thought I could probably work in the industry, but I had no idea that I would end up as a chef. The hotel offered an apprentice program under executive chef Tylun Pang. I was a waiter, maitre d' and then I moved into the kitchen, worked all the stations. I've grown up with the hotel over these past years.
Who inspired you to cook? I grew up in a food-orientated family because my family entertained lots when we had visitors from the Philippines. As a young guy I was influenced by my parents at first, and then the different ethnicities in Hawaii triggered inspiration in me ... I love the mix of cultures.
How do you describe the food at Ko? The cooking is very simple at Ko. It's home cooking brought to a five-diamond setting. We have all of the techniques and the skills here to take traditional recipes and make them different. We use a lot of locally grown products, Maui Cattle Company supplies our meats and we have fresh fish every day. It's awesome.
Do you cook at home? Yes, especially now that I have two young children. I like them to experience home cooking, and my wife enjoys different kinds of food.
What's always in your fridge? Fresh vegetables. We go to the farmers' market every Saturday morning and stock up with fresh veggies. And we always have tofu, fresh peas and ground turkey.
Anything about you that might surprise your friends? I'm building my own house from scratch. I help out a lot with the framing and the construction and the finishing. It's almost like cooking, watching the project take shape.
With whom would you like to have dinner? President Barack Obama. I already thought about the menu. I'd make him Korean chicken, lumpia, pancit and a big, fat, juicy steak from Maui Cattle Company.
Ko Restaurant
Fairmont Kea Lani
Wailea, Maui
808-875-4100
Most Recent Comment(s):