James Gillespie

By
.(JavaScript must be enabled to view this email address)
Friday - March 05, 2005
Share
|

Del.icio.us
|

Podcast
|
WineAndDineHawaii.com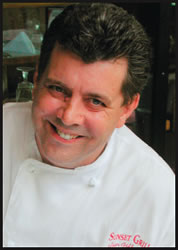 Jim Gillespie, executive chef at
Sunset Grill, Restaurant Row
Name and Title:
James Gillespie, executive chef, Sunset Grill.
Age: 42
First professional cooking job:
Youngstown Yacht Club, Youngstown, N.Y.
Culinary influences:
First job was as a dishwasher, and the chef pushed me to start doing prep work and then later cooking.
Favorite dish at a Hawaii restaurant?
Shoyu chicken with a lot of shredded cabbage. I love the cabbage and sauce.
Favorite dish at your own place?
Fire-roasted pork rib chop. The pork I am using now has terrific flavor.
What's always in your refrigerator?
Beer.
What do you eat when you've finished a long shift in the kitchen?
Nowadays I try not to eat too late at night. I eat more in the morning and early afternoon.
What motivates you?
Being in a very open kitchen and able to see people's faces as they dine. I want to do my very best to insure everybody has a truly fine dining experience, and if somebody is having a bad day, I can see that. I get a little self-conscious thinking it may be my food and I try even harder to do better!
Which person, dead or alive, would you most enjoy cooking for?
My grandfather.
What ingredient could you not live without?
Demi glace.
Most Recent Comment(s):
Commenting is not available in this weblog entry.