James Lee

By
.(JavaScript must be enabled to view this email address)
Friday - February 09, 2011
Share
|

Del.icio.us
|

Podcast
|
WineAndDineHawaii.com
James Lee
Occupation: Managing director, Hee Hing
Where were you born and raised? Born and raised in Honolulu, went to Iolani and graduated from UH.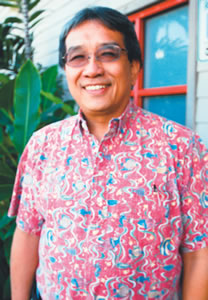 I usually ask people how they got started in the restaurant industry, but I know you got started at a rather early age. Yes, when I was about 6 years old I was cashiering at the restaurant, and the newspaper wrote a story about me being the youngest person "working" in a restaurant. Remarkably, people still remember seeing that story.
What is it that appeals to you about the industry? The restaurant business has always been a fun outlet for me. I enjoy seeing people happy, enjoying their meals and having a good time. And I like to eat good food — and cook too — so the whole industry is something I enjoy.
What do you cook at home? I'm pretty versatile, so it depends on the occasion. I can cook Japanese dishes, Italian, French — and Chinese dishes, of course.
What's always in your fridge? Onion, garlic, carrots, celery — the basics for many dishes — and eggs. I like to use eggs; they're very versatile.
Do you have a favorite kitchen tool? Yes, I cook with a wok — whether it's Italian or Chinese, I use a wok for everything. And I have a professional 30,000 BTU commercial range at home, so that makes cooking fun!
Favorite restaurants when you're not at Hee Hing? Hawaii has some great restaurants. I love to go to Michel's — Philip Shaw and his staff do a wonderful job. Stage is coming along, and doing a good job. And I like Japanese food — Tokkuri Tei (Kapahulu) is a favorite.
At Hee Hing, you've been in business for almost 50 years, but the menu remains current. Yes, we travel each year to find out what's happening in cutting-edge Chinese food. Basically cooking is the same — it's how you look at the ingredients that's key. People are eating lighter now, dishes have less sauces than they used to; there's less or no MSG. And local produce is being incorporated into all cooking. So a lot of changes are being made, even though the dishes may seem to stay the same.
What is it that makes a really good restaurant person? Oh, it definitely starts with the heart. They have to have a genuine love of people and want to meet and greet people. Once you see that, you can teach them anything
Who has been the biggest influence on you thus far? My dad, Kin Ball Lee. He taught me the importance of hard work and sticking to it — perfect things to know in the restaurant business.
Most Recent Comment(s):