Jarett Dukes

By
.(JavaScript must be enabled to view this email address)
Friday - August 24, 2007
Share
|

Del.icio.us
|

Podcast
|
WineAndDineHawaii.com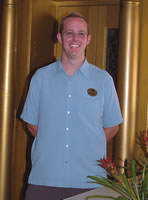 Jarett Dukes
Jarett Dukes is the restaurant manager at The Colony, the fine-dining restaurant within the Hyatt Resort and Spa in Waikiki. The restaurant debuts a new menu this month, with a la carte choices and some sumptuous desserts, along with house wines created for the restaurants by the Mondavi family and master sommelier Andrea Immer. Jarett might not know it, but he has a lot in common with some of the city's top restaurateurs and best - known chefs - they all head to Side Street Inn after a long night at work.
Age: 24
Where were you born and raised? Starke, Fla.
How did you get interested in the food and beverage world?
I went on a cruise when I was 13 and that piqued my curiosity about the industry.
First job in the industry?
Intern at Universal Resort in Orlando.
Do you have a favorite dish from your childhood that you remember?
My mom's lasagna.
Who's had the most influence on your career so far?
John Arden, a food and beverage director I worked with before coming to Hawaii.
Favorite place to eat when you're not working?
Side Street
Favorite dish there?
Pork chops
What's always in your fridge?
Pickled okra
With whom would you most like to have dinner?
I'd like to have had dinner with Walt Disney - at The Colony, of course.
Favorite late-night snack after work?
Chinese chicken salad
What do you think local people enjoy most about the Hyatt restaurants?
People tell us that it's the service they enjoy- along with the food. The staff has been here for a long time, and everybody really cares about the guests and their experience.
Favorite movie?
The Rules of Attraction
Most Recent Comment(s):