Jason "Cass" Castle

By
.(JavaScript must be enabled to view this email address)
Friday - July 27, 2007
Share
|

Del.icio.us
|

Podcast
|
WineAndDineHawaii.com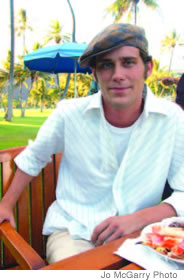 Jason "Cass" Castle
One of the youngest sommeliers in Honolulu is known to friends and wine lovers simply as Cass. With his trademark beret, a satchel often-times slung across his shoulder and a passion for wine, Cass brings a young, fresh approach and unique style to his profession. Here he talks about going to Italy for the first time, what he's drinking this summer and why he chose the grape over the Bar.
Age
28
Occupation
Sommelier
How did you get started in the food and beverage industry?
I was doing pre-law and working to pay my way through college, like most people.
So what started your interest in wine?
I started studying wine - the intellectual part of it was something I was really into - and then I started getting together with a friend and tasting a lot of wine. I became quite wine geeky, I suppose.
You run some pretty cool wine programs at Indigo and at Du Vin. How did you begin there?
Dave Stewart (the owner) asked me if I was interested in the position and at that point I told him no, I was going to study law. He looked at me and then asked me if I'd rather be listening to people's problems my whole life, or helping to solve them. It didn't take too long after that to make up my mind!
What's in your fridge?
Sam Adams.
Any food?
No. I hate to admit it but no. None. I dine out all the time.
What's your favorite movie?
The Natural.
I heard you just came back from Vin Italy ( the world's largest wine event). How did you like Italy?
You know, I love Hawaii and the people here, but I felt immediately at home in Italy. I can't explain it. The culture seems to match my personality!
What are you drinking this summer?
As you can imagine I'm a little obsessive about Italian wines right now - particularly Italian whites. They're perfect with our weather. At Du Vin you'll find me drinking Valsacro Rioja - an amazing Spanish wine that nobody else has right now. At Indigo I'm drinking Pighin Pinot Grigio - it's a gorgeous wine. And Prosecco, of course.
Most Recent Comment(s):