Jason Miyasaki

By
.(JavaScript must be enabled to view this email address)
Friday - February 23, 2011
Share
|

Del.icio.us
|

Podcast
|
WineAndDineHawaii.com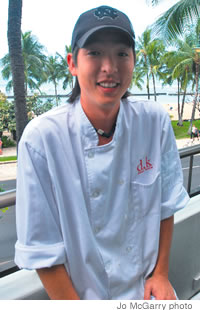 Occupation: Executive Chef, d.k Steak House, Honolulu
Where were you born and raised? Grew up in Pauoa, went to Pauoa Elementary and McKinley High School.
What started your interest in cooking?At parties I liked to cook, and I thought it would be something I could do. To be honest, I didn't like school all that much, so I couldn't wait to get to KCC and start the culinary course!
Anyone in your family influence your cooking style? My parents and grandparents were good cooks of traditional Japanese food.
First job in the industry? After I graduated, I started at Aaron's and worked with Danny Morioka. He came over to d.k and I came too, about six years ago.
You have a lamb porterhouse on the menu right now - how does it differ in flavor from a more traditional rack of lamb? It looks like the regular porterhouse steak only much smaller, of course; there's the tenderloin and the strip loin. It's about an 8-ounce portion. It comes from Australia, and it has a very mild, very tender flavor. It's still a little gamey, but very subtle. We just grill it simply, and the cut is really tender. I think most people will be surprised how good it is.
What's your choice from the menu when you're eating here? Gotta be the 30-day dry-aged rib-eye steak, which is super-tender with a pretty powerful flavor. The meat is really moist.
Do you cook at home? I rarely cook at home. I am more likely to eat late at night on the way home.
What's always in your fridge? Ponzu sauce.
Where do you like to eat when you're done working? Driving home, most likely Zippy's. If I'm with my girlfriend we pretty much go wherever she wants to go. She's a seafood eater. She likes Kunio's in Waikele and any small, simple noodle places.
Who'd you most like to see come in for dinner? Probably my grandparents. It would be fun to have them see what I'm cooking here. That would be something. -Jo McGarry
Most Recent Comment(s):