Jason Takemura

By
.(JavaScript must be enabled to view this email address)
Friday - June 01, 2007
Share
|

Del.icio.us
|

Podcast
|
WineAndDineHawaii.com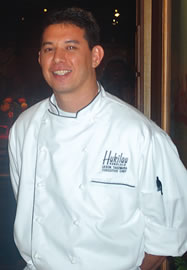 Jason Takemura
Jason Takemura has spent the past four years working as executive chef at Chai's Island Bistro. He's leaving the world of fine Thai dining behind to become executive chef at the newly opened Hukilau Sports Bar and Grill at The Executive Center Downtown.
Age: 29
Where did you go to school?
I was born and raised here on Oahu, and went to Mid-Pac and then UH. I started cooking and decided I wanted to pursue that, so I went to culinary school in Portland and then to Pebble Beach. I kind of worked my way down the coast and back to Oahu.
What started you on your culinary path?
I always liked cooking. One of my roommates was working at Angelo Pietro's and he got me my first job.
What's the food style going to be like at the Hukilau?
A combination of Pacific Rim, incorporated with a lot of California cuisine and, of course, local touches.
Give us an example of something from the menu.
We have a bento of the day, for people who might be in a rush or need a quick lunch. It comes with four different parts: Appetizer, entrée, salad and dessert are all served bento-style on one plate. It should help cut down on the dining time at lunch.
Where do you like to eat when you're not at work?
I love sushi, so I'll go anywhere to try it. I was just turned on to Sasabune by one of the owners of Hukilau, and that was really good. I like the sushi bar at Zippy's, too - that's pretty good.
How about culinary influences?
At home my mom cooked daily and dad cooked on the weekends. They were very supportive of me when I decided to take this course. And I learned a lot from working with Chai (Chaowaseree), especially about balancing flavors and textures.
What do you cook for dinner at home?
Regular food! Home-cooking - spaghetti, lasagna, local dishes. Nothing fancy.
What's always in your fridge?
Water. That's it, really - oh, and dessert. Right now I have a custard pie in there. I really am a dessert addict.
Favorite movie?
Not much time for them because we work so much, but I did see The Pursuit of Happyness. That was a good movie.
Most Recent Comment(s):