Jay Kaneshiro

By
.(JavaScript must be enabled to view this email address)
Friday - May 20, 2009
Share
|

Del.icio.us
|

Podcast
|
WineAndDineHawaii.com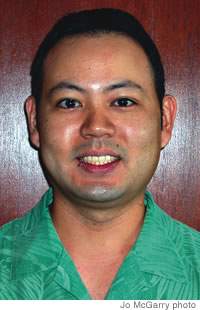 Age: 36
Title: Regional General Manager-Oahu, based at Ruth's Chris Steak House, Waikiki.
Where were you born and raised? Honolulu
What started your interest in the F&B world? It started during college. I had some friends who were working in restaurants, and I thought it was a good job to have while going to school.
First job? Nuuanu YMCA cafeteria as a cashier, dishwasher and fry cook.
Favorite dish on the menu at Ruth's Chris? It's a tie between the veal chop and the New York strip - great flavor from both dishes.
What do you recommend to people coming to the restaurant for the first time? It all depends on what their preferences are. If a guest is looking for a tender, melt-in-your-mouth steak, naturally I would recommend the filet. If they want bolder, heartier flavors, I would go with the New York strip. There is also the porterhouse, which has both the New York and the filet.
Do you cook at home? I do when I have time, but I'm extremely fortunate that my wife is a great cook who does most of the cooking.
What's your best dish? Portuguese bean soup.
What's always in your fridge? Diet Pepsi.
With whom would you most like to have dinner at Ruth's Chris? Eric Ripert, Anthony Bourdain, Warren Buffett, Tina Fey and Seth MacFarlane.
Where do you like to eat when not working? Akasaka. I love the chirashi.
Do you ever order steak when you eat out elsewhere? Yes. I think it is a good idea to see what other places are doing.
Any great dining stories you'd like to share? There was one night that we had to stay open late to accommodate a large party that included Sean Hannity and Newt Gingrich. After dinner, Newt started telling stories about Bill Clinton, Ronald Reagan and George H.W. Bush. It was a pretty surreal experience.
What would people be surprised to know about you? I am a germophobe! I need everything to be absolutely spotless and clean. So, just think how clean the restaurant is!
Favorite movie or book? How to Win Friends and Influence People by Dale Carnegie.
Most Recent Comment(s):