Jay Matsukawa

By
.(JavaScript must be enabled to view this email address)
Friday - February 25, 2009
Share
|

Del.icio.us
|

Podcast
|
WineAndDineHawaii.com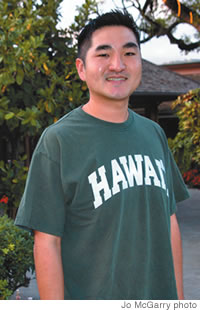 Title: Executive chef, The Willows
Where were you born and raised? Kailua - I'm a Kailua High School grad.
When did you first get interested in cooking?
In around seventh grade. We made apple pies and pizza and pretzels in home economics, and I really liked it.
At first you had a fine-dining restaurant at The Willows. What happened?
Well, it's a little challenging to have a restaurant within another restaurant, so the location was a problem. But it was a good experience.
Do you channel that fine-dining spirit into the buffet?
We try to make it interesting. It's difficult to be completely creative with chaffing dishes, but we do different things. We just started sushi - nigiri and maki - and we're going to add more as it gets established.
What makes The Willows a good dining experience?
I think the ambience and the fact that we have Hawaiian food every day. You can't get that everywhere.
What's your idea of a perfect meal?
I like simple stuff like salt-and-pepper steak and fresh sashimi.
Favorite restaurant?
A small izakaya on South King Street, Izakaya Gaku. The food's really good.
Who would you most like to see come to The Willows for dinner?
The North Carolina basketball team would be good.
Who has inspired you most thus far?
My mom. She had to cook for three boys. Mom's food is still my favorite.
What's always in your fridge?
Heineken Light.
The Willows 901 Hausten St. 952-9200
Most Recent Comment(s):