Jeff Blair

By
.(JavaScript must be enabled to view this email address)
Friday - January 04, 2008
Share
|

Del.icio.us
|

Podcast
|
WineAndDineHawaii.com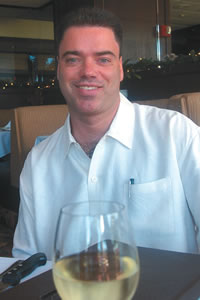 Jeff Blair
Jeff Blair talks about what got him into the restaurant business, and a career with Ruth's Chris.
Occupation:
Executive team member, Ruth's Chris Steak House, Honolulu.
Where were you born and raised?
Upstate New York.
What got you interested in the food and beverage industry?
My first job was in a local small-town restaurant - Eben's Hearth. It was a family-run restaurant, and the owner sent me to culinary school in Montpelier, Vt. When I got back from school I realized that I had a passion for cooking, and I came back and worked for the owner for four more years. I then moved to West Palm Beach and got my first corporate chef position, and at the same time worked part time at Ruth's Chris. That was 17 years ago.
I know you were corporate chef responsible for 50 Ruth's Chris restaurants. Did you work in them all?
No (laughs). I worked in our West Palm Beach location and then went to Metairie (New Orleans suburb) for seven years. Then I went to the original Ruth's Chris in downtown New Orleans.
Was there something unique about the original Ruth's Chris?
Oh, for sure. Without a doubt it was different. But the restaurants are all about pride and passion for the product and the customer, so that doesn't really change much wherever you go.
What was it about the owner, Ruth Fertel, that was special?
She drew people to her and she touched so many people's hearts. Everybody loved her. I think it was because she worked hard and she really cared about everybody.
Have you found any favorite Honolulu hangouts yet?
I got off the plane and started working and I haven't stopped! I haven't really been out. I've been to just about every Roy's, though - you have to do that when you first come to Hawaii.
What's your favorite dish on the menu at RCSH?
The rib eye. I think it has the most flavor. Either that or the barbecue shrimp - that's real New Orleans style.
How did Hurricane Katrina affect you?
I was in Biloxi, Miss., the day Katrina hit. We closed the restaurant early and thought we'd be back on Monday. We just opened again after two-and-a-half years. The original Ruth's Chris closed with a lot of water damage and still has not reopened.
What memories do you think Hawaii people will bring back from New Orleans?
I think they'll be surprised at the amount of devastation that's still there, and I'm pretty sure they'll remember the great attitude of the people.
Most Recent Comment(s):