Jeff Blair

By
.(JavaScript must be enabled to view this email address)
Friday - February 03, 2010
Share
|

Del.icio.us
|

Podcast
|
WineAndDineHawaii.com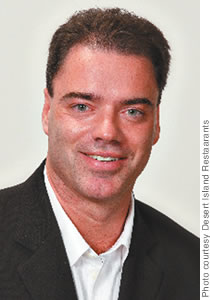 Title: Vice President of Operations, Desert Island Restaurants
Where were you born and raised? Syracuse in upstate New York.
What sparked your interest in the F&B world? My first job was delivering chicken wings at Eben's Hearth. It was a small, family-run restaurant and I really enjoyed working there. In between making the wings and delivering them, I started making sandwiches and soups, and working with the chef, and I decided from there that I would pursue a culinary path.
I didn't realize that you had a culinary background as well as a managerial one. My major was art and I always thought of food as a way to be creative.
How did the move to Hawaii come about? A lot of things fell into place to make it happen. I'd started with Ruth's Chris Steak House in Palm Beach and went to New Orleans to the original restaurant. I worked there for 15 years (with the owner Miss Ruth). Then Katrina came and everything changed. The restaurant went through a huge upheaval and change. I'd been involved with Ruth's Chris Hawaii over the years, and the timing was right for me to come here.
Did the original Ruth's Chris Steak House ever reopen?
Actually I just went back to watch the Saints/Cowboys NFL playoff game. The original restaurant is being turned into a library.
Do you cook at home? (Laughs) If I had time I would.
What's always in your fridge? Fresh vegetables.
With whom most like to have dinner at Ruth's Chris? I'm a Cowboys fan, so Emmett Smith, who is obviously one of the best running backs ever.
Which path would you choose given your career choice over again, front of house or back? In order to understand the culinary path, I think you have to understand the management side, too. When I got into it, I loved the food and knew I wanted to make the best of opportunities. I think you should find out whether you are a front-of-the-house person or back-of-the-house. Very few people like to do both.
What's your favorite movie? Rudy. How could you not love Rudy? It's inspirational. I've always been a believer in the "can-do" attitude.
Most Recent Comment(s):