Jeffrey Vigilla

By
.(JavaScript must be enabled to view this email address)
Friday - June 24, 2009
Share
|

Del.icio.us
|

Podcast
|
WineAndDineHawaii.com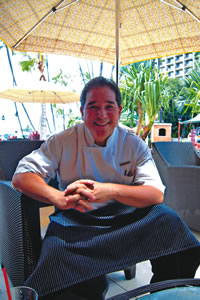 Title: Executive Chef, Hilton Hawaiian Village
Where were you born and raised? Hilo - Hilo High School Vikings class of 1979 (laughs).
What started you on your path to culinary stardom? Well, a funny thing happened on the way to becoming a chef. I really wanted to be an architect. But I was inspired to cook early on in my life, and I think that I design my architectural dreams on the plate.
Who influenced you most when you were young? Being from a large family, we grew up on a farm and we grew everything ourselves. We had our own chickens, all our own vegetables. My dad was the principal cook and food was obviously a big part of daily life. I found myself cooking with my grandma all the time - at age 10 I was in the kitchen with her preparing meals.
Do you have a favorite dish of your grandmother's? Oh, her Hawaiian short rib ginger stew. It was such a great dish. She made it with taro, ginger and a broth something like the broth for oxtail soup. I made it myself a couple of years ago. Not quite Grandma's dish, but pretty good.
You are now responsible for so many dining outlets at Hilton. Yes, we have 18 different restaurants on property. The newest one is Tropics, which has just recently reopened. We're pleased with the reaction we're getting.
Where do you like to eat when you go out? The smaller restaurants are my favorites. Side Street Inn, of course, for lup cheong fried rice. And I love that restaurant on Waialae Avenue, town. I like their tagline that everything is 'local first, organic where possible ...' That's the kind of restaurant I enjoy.
With whom would you most like to have dinner? Through my career I've had the chance to have dinner with lots of comrade chefs and with lots of dignitaries, but I would love to have dinner with Jacques Pepin. I think he has a great heart, a wealth of knowledge and he's one of the reasons I learned to cook. I studied his techniques and his books are inspiring. I think he would be fun.
What's always in your fridge? Ginger, garlic and some type of vegetable. And wasabi. And usually green tea noodles.
Anything about you that people would be surprised to know? I do a mean karaoke.
Tropics Bar and Grill Hilton Hawaiian Village 949-4321
Most Recent Comment(s):