Jerry Brassfield

By
.(JavaScript must be enabled to view this email address)
Friday - August 03, 2007
Share
|

Del.icio.us
|

Podcast
|
WineAndDineHawaii.com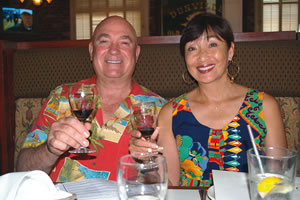 Jerry Brassfield
Jerry Brassfield is the owner of Brassfield Estate Winery. A former cattle rancher, Brassfield bought his vast property in California's newest appellation (High Valley) more than 34 years ago. Myriad microclimates make this unusual growing region unlike any other in California.
Brassfield is married to Hawaii-born Su-San (pictured here), and the couple has had a home in Honolulu for many years - and spends much of the summer in the city. Here he talks about his favorite wines - and some of his favorite places to drink them.
Where were you born and raised?
In San Joaquin Valley and I was raised on a cattle ranch.
How did you go from cattle ranching to wine making? I loved wines as a young man. I remember my favorite meal in my 20s was cheese, bread and a large jug of Gallo red wine (laughs)! My brother and I bought a winery in the '70s, but we ran out of capital and sold it. I always knew it was something I wanted to go back to.
I read somewhere that you won more than 270 wine awards in a period of about two months. Is that true? Our wine awards are so numerous now we can't even count them.
Where do you like to eat when you're in town? d.k's Steak House is a favorite of ours, and Sansei too. We love Vino and Hiroshi's - they're both places that have great wine. And we like to go to Roy's - all locations. We love so many restaurants in Hawaii. Murphy's is a favorite too.
What do you drink when you're enjoying, say, a steak?
We drink our Zinfandel, and of course our Pinot Noir goes really well with a good steak. I believe our Pinot Noir came first in a blind tasting by regular guests at a popular restaurant recently.
Can you describe Serenity, one of your most popular - and inexpensive - white wines?
Serenity is a blend of 63 percent Sauvignon Blanc, 29 percent Pinot Grigio, 6 percent Gewürztraminer and 2 percent Semillon. It goes well with Asian foods and spicy food, and it seems very-well suited to Hawaii.
How about at home? Who cooks?
Oh, Su-San. She does everything well. She's a great cook - chef caliber, really. Korean food is a favorite.
With whom would you most like to sit down and share a bottle of your wine?
Warren Buffett for financial conversation, and Roy Yamaguchi to talk about food and wine.
Most Recent Comment(s):