Jim Hamachek

By
.(JavaScript must be enabled to view this email address)
Friday - July 14, 2006
Share
|

Del.icio.us
|

Podcast
|
WineAndDineHawaii.com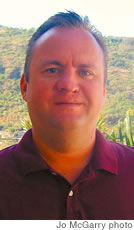 Jim Hamachek
Jim Hamachek is the director of operations for Dixie Grill and Auntie Pasto's, the popular neighborhood restaurants with locations in Honolulu, Aiea and now Kunia. Here he talks about his early interest in food, what makes DG and AP's so popular, and why he'd like to have his grandparents over to either restaurant for dinner.
Age: 38
Where did you go to school?
Milwaukee Area Tech (culinary arts) and University of Wisconsin-Stout (hotel and restaurant management).
What started your interest in restaurants?
I took cooking classes in high school, and then when I went to apply for my first job I was shocked when I got hired as a cook instead of a dishwasher. I was just 15.
First professional position?
Well, most any cooking job should be considered professional (and I had several through high school and college). But my first job out of college was a food and beverage manager for Outrigger Hotels & Resorts - they brought me to Hawaii.
Who has influenced you most in your career?
Lots of people really. My family was always into good food, so that was a big influence. My former GM at Outrigger, Terry Dowsett, was a big influence, and now there's Ed Wary, the owner of Auntie Pasto's and Dixie Grill. He thrives on always thinking outside the box, and his endless passion for being creative with food is fun. It keeps the guest experience fresh and different all the time.
If you weren't in this industry, what would you be?
Hmmm ... once you have this business in your blood, it's hard to get it out. But if I could choose, I'd have to say an architect or landscape designer.
Where do you go to eat when you have free time?
I love Momomo on Waialae Avenue ... and even before I worked with Ed I used to go to Auntie Pasto's on Beretania all the time.
Favorite dishes at those places?
Momomo has lots ... but Ahi Carpaccio, Beef Salad and their tiny fried shrimp are favorites. At Auntie Pasto's, it's gotta be Chicken Piccata or Red Pepper Calamari.
What's always in your fridge?
Coffee, wine, flavored waters ... and cheese. Gotta have the cheese!
Favorite late night snack?
Popcorn, cheese or ice cream. I love Ben & Jerry's Cherry Garcia, but I've been trying to not have that laying around recently.
How do you describe Auntie Pasto's and Dixie Grill to people who've never been?
Both are casual, family-friendly restaurants that won't break the bank for a fun night out. You'd feel comfortable going in there in a T-shirt or shirt and tie (but you won't catch me in a tie - I left mine in Wisconsin!).
Auntie Pasto's reminds me of a favorite corner Italian restaurant back in Milwaukee where everyone knows your name (sound like a TV show?). At Dixie Grill, it's all about Southern-style barbecue, tapping your feet to an old Southern rock song and laughing out loud.
Who would you most like to host for dinner at either restaurant, if you could?
My grandparents - it would be great to laugh and talk with them again. And they would be so proud - they always were.
Which person do you most admire in the food and beverage world?
Richard Melman, the Chicago restaurant guru. His creativity and desire for fun restaurants is endless.
Best part of your job?
Food, creativity and the people.
Worst part?
Ah ... sometimes the people!
Most Recent Comment(s):