Jim Wagner

By
.(JavaScript must be enabled to view this email address)
Friday - April 21, 2006
Share
|

Del.icio.us
|

Podcast
|
WineAndDineHawaii.com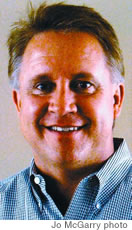 Jim Wagner
Jim Wagner is the new GM at Compadres. He describes his position as something of a home-coming, even though he was born and raised in Michigan. Twenty years ago he served as GM of Compadres in Palo Alto, and the Aiea resident is father to three young children who live on Maui with their mom.
Age: 50
Where did you go to school?
Northern Michigan University, Michigan State University.
First professional position?
I started as a bartender at the Ramada Inn in Michigan. On my very first night on the job, 400 Shriners came in and I literally "learned on the job."
Who has influenced you most in your career?
Gary Link and Carl Hayes, two of the most notable individuals in the restaurant industry, taught me to always look for the positive in all situations and the simplicity of hospitality, if genuine.
If you weren't in this industry, what you would be?
I'd be a teacher or a coach - these positions are very much like the restaurant biz in many ways. And I adore children!
Where do you go to eat when you have free time?
Mai Tai Bar at the Royal Hawaiian Hotel - watch out! I love the nostalgia and feel of the place. Sashimi, please! I also go to Dixie Grill for the snow crab platter, Outback Steakhouse for the 16-ounce prime rib, seasoned and seared, and to Roy's for the chocolate soufflé.
What's always in your fridge?
Fresh fruit and lots of veggies.
Favorite late-night snack?
Haagen-Dazs chocolate ice cream and a small glass of fine port.
How do you describe your restaurant's style?
Compadres is known for wonderful, high-quality Southwestern food with a Mexican accent. Everything is served in generous portions ... with a smile!
Whom would you most like to host for dinner?
Mike Krzyzewski, the Duke University basketball coach. He teaches the importance of life, honor and respect, beyond just coaching. I admire the rules he lives by and his personal integrity.
Which person do you most admire in the F&B world?
Norman Brinker - for his incredible insight. With his long list of restaurants, he's been surrounded by great people and taught the top-of-the-line. He's a true gentleman.
Best part of your job?
Guest interaction is what I enjoy the most ... and the constant change of events daily.
Worst part?
There is no worst part - or I wouldn't be in the business, doing what I'm doing! I would never have a job I didn't enjoy.
Most Recent Comment(s):