Jim Weisiger

By
.(JavaScript must be enabled to view this email address)
Friday - November 11, 2009
Share
|

Del.icio.us
|

Podcast
|
WineAndDineHawaii.com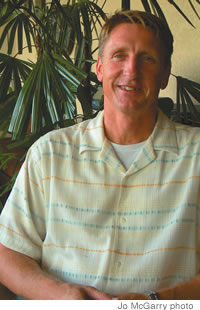 Age: 48
Job Title: General Manager Azure
Restaurant, The Royal Hawaiian
Where were you born and raised? Born in Virginia and raised in San Diego.
What was your first job in the industry? I worked as a dishwasher at the Old Ox restaurant in San Diego at age 14.
What sparked your interest in the industry and made you want to make it a career? My best friend's dad was a guy named Mike Rogers and he owned the Old Ox. He was just the coolest guy I knew, and I wanted to be like him. All these years later he's still the coolest guy I know!
When did you come to Hawaii? The latest tenure began in 2004, this time with my wife and three children.
What's your own personal philosophy on running restaurants? No. 1, gracious hospitality. It's essential. And No. 2 is knowing that the most important people in the restaurant are the staff. If you take great care of your staff, they will take great care of your guests.
What's the worst thing that can happen to a diner in a restaurant? It is for them to leave without feeling that anyone genuinely cared about their experience.
What makes a great restaurant experience? Exceeding expectations.
Favorite dish on the menu at Azure? It depends on what the fresh fish of the day are, but the high-heat herb-roasted onaga with a little white wine and Meyer lemon is simplicity at its finest. I would add sides of Kahuku corn and Hamakua mushrooms and the crushed fingerling potatoes with extra virgin olive oil and Hawaiian sea salt.
Favorite other restaurants in town? My favorite other restaurant is the Mokihana Café. It's the employee cafeteria at the Royal Hawaiian and I eat there every day. I'm either too busy to go out or too tired, or I just want to hang out with my kids. And the food at the Mokihana Café is exceptionally good!
Do you cook at home? I love to grill out back with my children.
What's always in your fridge? Carbonated water and strawberry jam to go with the peanut butter in my cupboard.
Anything that would surprise people about you? I have officially presided over a wedding ceremony. As of today, the couple is still happily married with two children and living in Indianapolis.
Who'd you most like to have dinner with at Azure? Joey Gottesman (mixologist, Royal Hawaiian) because he makes the greatest cocktails, Brett Favre because he has the greatest stories, and Santa Claus because he is not only a legend, but he seems like such a great guy.
Most Recent Comment(s):