Jim Weisiger

By
.(JavaScript must be enabled to view this email address)
Friday - December 14, 2007
Share
|

Del.icio.us
|

Podcast
|
WineAndDineHawaii.com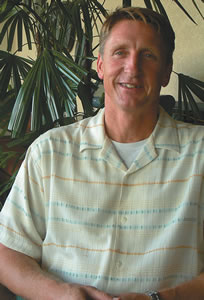 Jim Weisiger
Job Title:
General Manager, E&O Trading Company, Honolulu
Where were you born and raised?
Born on a Marine base in Quantico, Va., raised in San Diego.
What started your interest in the industry?
My best friend's dad in San Diego was a restaurateur and the coolest guy I knew with the coolest restaurant in town, The Old Ox.
What made you move to Hawaii?
I moved here for a business opportunity outside of the restaurant business. Six months in I realized I hated what I was doing and got right back in the industry. This industry has a unique addiction.
What's the most challenging part of running a restaurant?
Creating a healthy balance of work, family and time for myself.
How do you describe E&O to people who've not yet been there?
Innovative elixirs, inspired cuisine and intoxicating ambience
And the food is ...?
Unique, but very accessible.
Your favorite dish there?
Currently it is hard to beat the simplicity of the Char Siu Style Smoked Black Cod with Kai Choy. My new favorite dish will be coming out in January: Mild Curry Spiced Grilled New York Steak with Kea Hon Shimeji Mushroom Saute, Kabocha Yukon Mash and Szechuan Pepper Sauce. Our chef Nick Salvi has some great things in store for E&O.
How about other favorite places around town?
Barbecue in the back yard with my wife and three children.
What do you do to relax?
I love to surf - 2-foot Waikiki to 10-foot Sunset Beach - surfing is a dream and a total escape from everything.
Favorite movie/book?
Movie: anything by Christopher Guest (Spinal Tap, Best in Show, A Mighty Wind, Waiting for Guffman) Book: Oh! The Places You'll Go by Dr. Seuss.
With whom would you most like to have dinner at E&O?
Joey Gottesman, legendary mixologist; Brett Favre, legendary quarterback; David Bowie, legendary artist; Santa Claus, the legend. Great drinks, great stories, great music, great company and, of course, great food.
Any advice for budding F&B professionals?
Survival depends on balance.
Most Recent Comment(s):