Jody Jenkins

By
.(JavaScript must be enabled to view this email address)
Friday - June 13, 2008
Share
|

Del.icio.us
|

Podcast
|
WineAndDineHawaii.com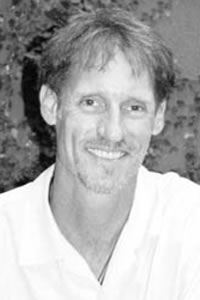 Jody Jenkins is the general manager at Brasserie Du Vin. Born and raised in Dallas, he's lived in Hawaii since 1988, when he opened Studebaker's at Restaurant Row. Here he talks about why the bar with the car was such a success for 20 years, what it takes to be in the restaurant business and who he'd like to stop by for dinner.
What started your interest in the F&B world?
My mother owned a restaurant-catering business. I grew up in the family business and started working at age 14. My first responsibility was helping to set up and break down events.
First job?
In college I worked as a bartender at Tom Foolery's located at the Hilton Inn at the El Paso Airport, and I just got into it from there.
You brought Studebaker's to Hawaii in the late 1980s. That was a great concept and a fun restaurant.
Yeah, I was the corporate entertainment director at the original Studebaker's and one day we were in a management meeting when this guy, Bill Bowman, walked through the door. He had on a dinner jacket, slicked back hair, black patent leather shoes. The manager said,"I don't know what he's doing here, but hire him."We did, and the whole music thing took off from there.
When I first came to Hawaii in 1999 there were lines around the block to get into Studebaker's. I still remember the experience of going there.
Yeah, it was incredible. Between the routines and the music, the dancing on the bar, the Blues Brothers thing ... the drinks ... it was a great 20 years.
How do you describe Du Vin to people who've never been?
It's an escape to Europe.
Favorite dish on the menu?
The grilled flat iron steak with pommes frites. And I always look forward to chef Scott Nelson's daily specials.
Other favorite local restaurants?
Azteca. It reminds me of Tex-Mex from home. It's great Mexican food and a small, family-run business. And Le Bistro in Aina Haina.
What's always in your fridge?
Stella, and spiced pumpkin granola from Down to Earth.
Who's had the most influence on you thus far?
Two people, really. Gene Gunn, one of the founders of Studebaker's, and my mom.
Who'd you most like to see come into Du Vin for dinner?
Barack Obama, Nolan Ryan, Clint Eastwood and John Lennon. That would be a good table.
Brasserie Du Vin 1115 Merchant St. 545-1115
Most Recent Comment(s):